MASE is an art-inspired vibrant fashion and lifestyle brand from Hong Kong promoting a colorful way of living. What makes it unique is that the prints are composed of storytelling matched with color therapeutic methods, allowing you to be self-expressive and creative with the way you dress or decorate your home.
All MASE products are driven by practicality as well as art that makes each item a timeless statement piece. Now, Mase is divided into 3 brands lines, the Mase that remains the brand's signature line featuring luxury items such as the Mase Cross-body clutch bags, Flat clutches, Wallet Bags, Shoulder Bags, and many more, the Mase Resort that features casual statement pieces that are perfect for daily and holiday adventures and includes Leather Tote Bags, Resort Fabric Totes, Mini-mes, and Scarves and last, the newly established Mase Lifestyle that offers home decor, including art prints and Cushion covers that can harmonize and add personality to interior spaces. Inspired by combining a holistic color theory approach and Feng Shui philosophy, MASE art prints enrich spatial energy and dynamic.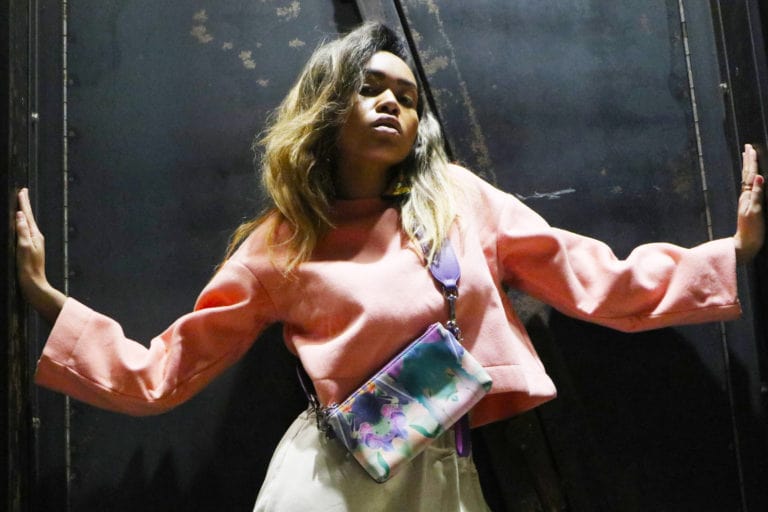 Mae Kwan who is the founder and designer has developed a strong vision of merging art forms to create an artistic language that can fully express her ideas and beliefs. MASE came to fruition in 2013 when the idea emerged during her meditation in Bali Indonesia.
A series of art prints were composed soon after the enlightened vacation that has proven to be a new design direction which brings boundless creativity in Mae's work.
MASE Colour Therapy summarises the designer's vision to create meaningful fashion and lifestyle products that can bring beauty, harmony, and joy into your life. This is an extension of the Designer's beliefs and vision, to celebrate the beauty around us and more importantly, embraces a subtle beauty from within. In every Mase print and design, has its own story to tell. And here they are!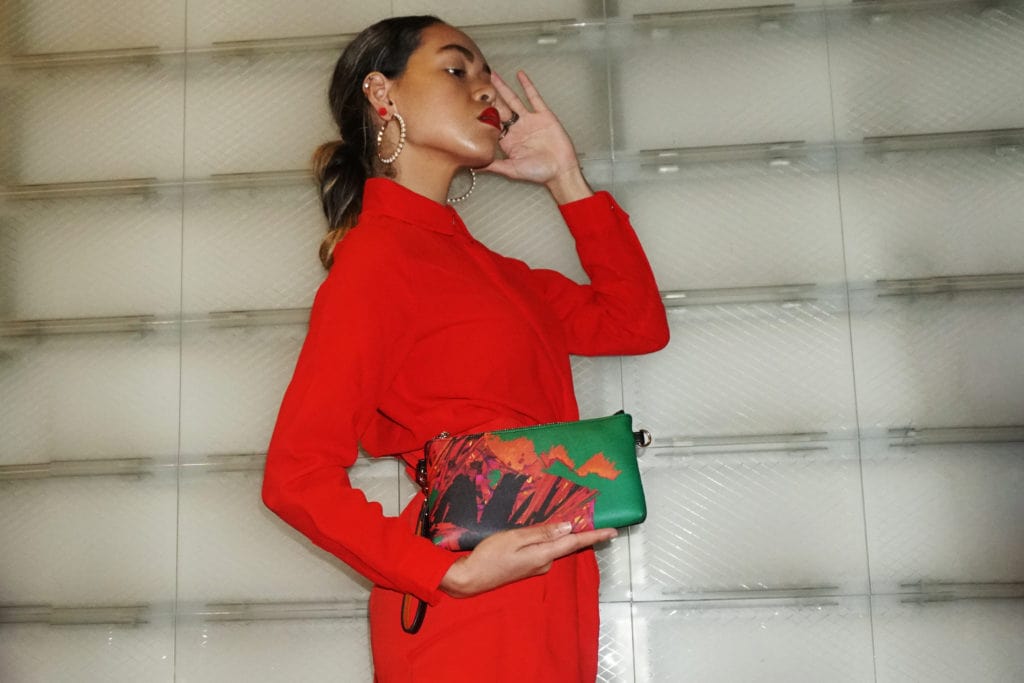 The Garden of Eden Collection

.
These capture the dramatic contrast between a botanical garden and a man-made superstructure, giving a glimpse of what the future may hold. The inspiration for this collection is taken from the pressing environmental issues on our planet earth, highlighting the challenge of achieving harmony and balance between nature and civilization.
1.Evelyn mini – features the monochrome superstructure with abstract floral patterns in the background, creation juxtaposition between two different forms. The color Purple represents harmony and the Yellow signifies Joy and Happiness.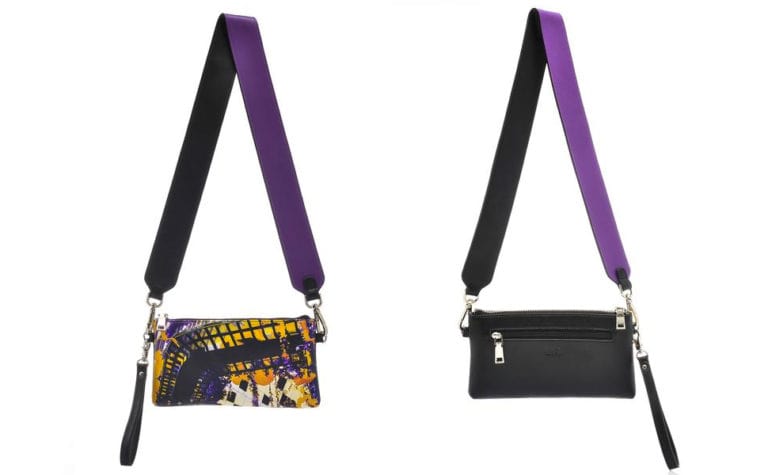 2.Rose Tote bag – is the continuation of Evelyn art print design. The floral pattern now becomes explosive, in the midst of fighting for survival and thriving to maintain the natural harmony once enjoyed. Pink signifies the desire for greater equilibrium.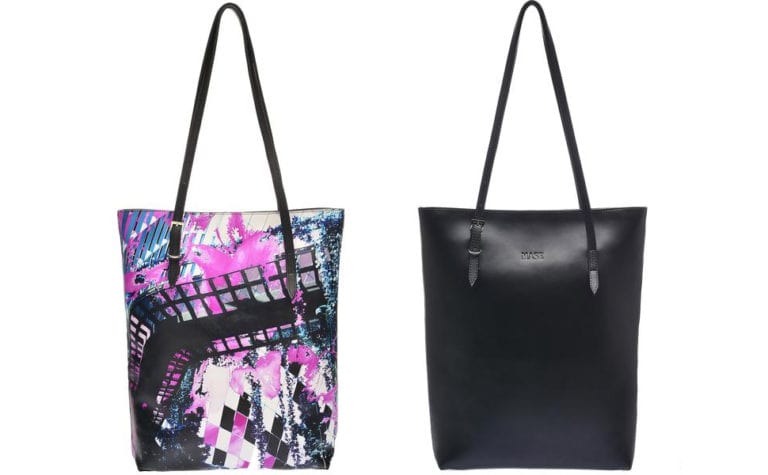 3.Bowen Flat clutch – is the first unisex clutch bag. The art print draws a conclusion for the entire collection which suggests the possibility of achieving the perfect balance between nature and civilization. Blue is a healing color which represents the healing power of nature.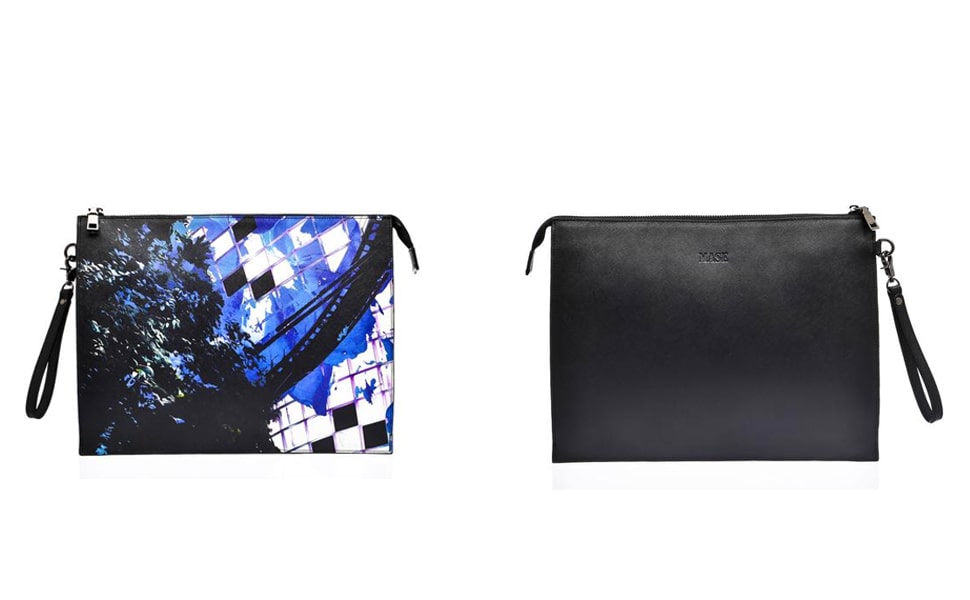 The Reminisce Collection
Reminisce captures the colonial architecture in Singapore that characterizes the multi-cultural vibrant city. Inspired by the lavishly decorated shophouses, this series celebrates the architectural elements and color palettes used in shophouse design which give the bags a retro look.
1.Florence Mini Bag – has an eye-catching print featuring Art Deco-inspired symmetry and boldness. The design explores the order and rhythm in colonial architecture by breaking down specific elements then merging them together again to create a layered effect. The vibrant Orange strap is used to highlight the vibrancy that the tropical climate provides.
2.Eilen Tote bag – Inspired by the colonial architecture which captures the memories of the past and possibilities of the future. The color combination of blue and purple helps create a tunnel effect by drawing your attention to the end of the perspective.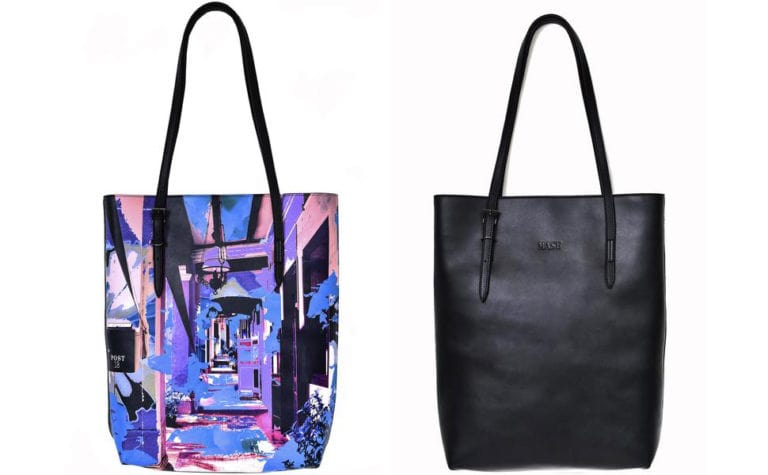 3.Rene Clutch bag – is a modern take on the art deco period, celebrating the colonial architectural elements and distinctive motifs. The color palette gives the clutch a feminine touch, perfect for pairing up with silver jewelry and a floaty dress or your favorite white top and denim for a casual look. The color Purple adds glamour and sophistication to the print.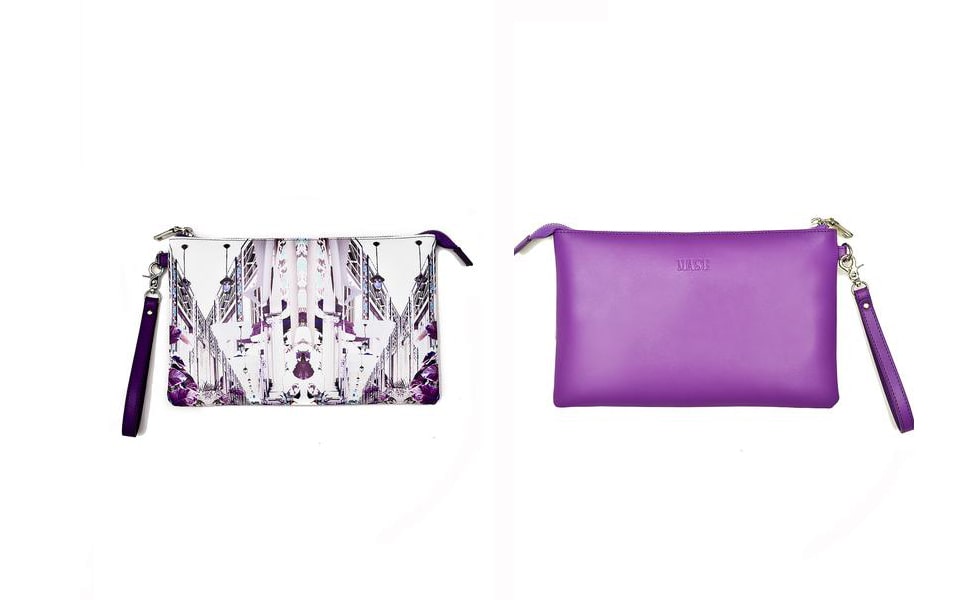 Bestsellers
1. The Illusion flat clutch – the idea was inspired by the dynamic contrast in a confined yet spatially intriguing narrow street in Hong Kong. The design is framing the surrounding buildings and the view of the sky.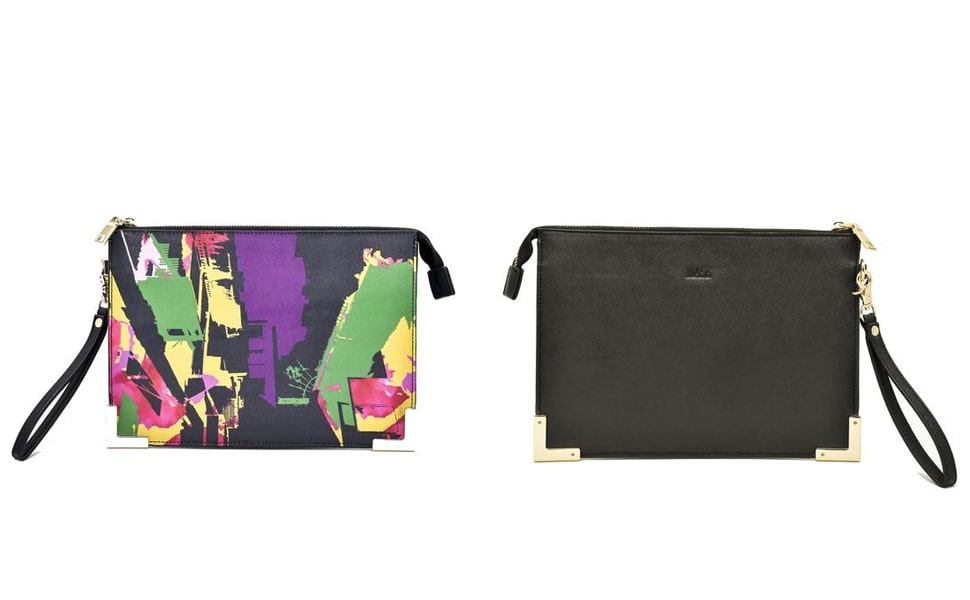 2. Reflection clutch bag – this is based on the concept of capturing the "moment" when the time is frozen, keeping calm so that we get a perfect reflection of what reality is. The warm palette makes it perfect for adding glamour to an evening outfit – ideal for a sophisticated retro look.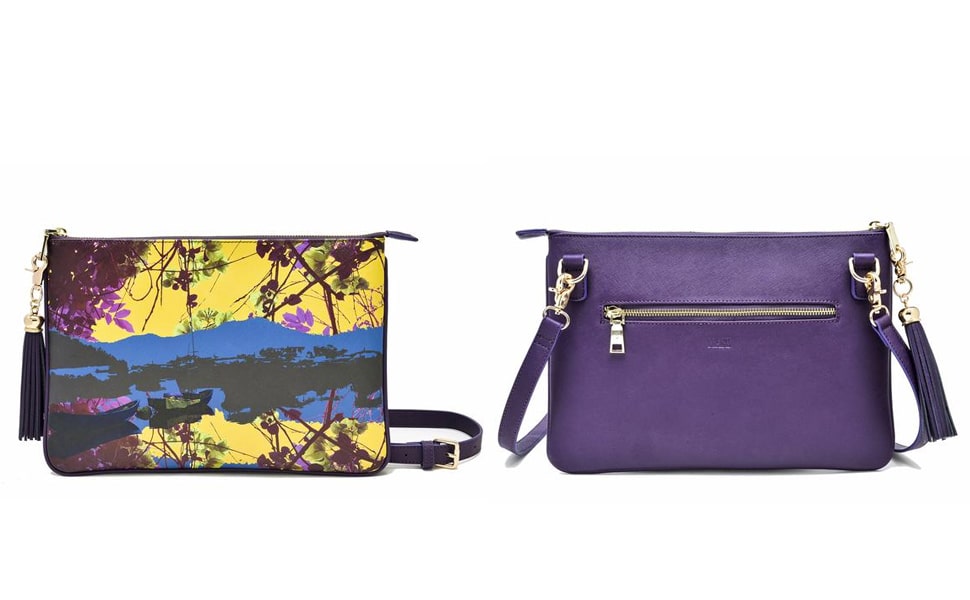 3. The Wonderland Clutch – takes inspiration from the Hindu Temple, reflecting the peace and serenity that can be felt through faith. Recalling an old Temple, it is accented with an ordered pattern of muted pink, purple, turquoise and sky blue, at once uniform and serene. This symmetrical pastel print makes it a perfect hand clutch for day time use and evening events.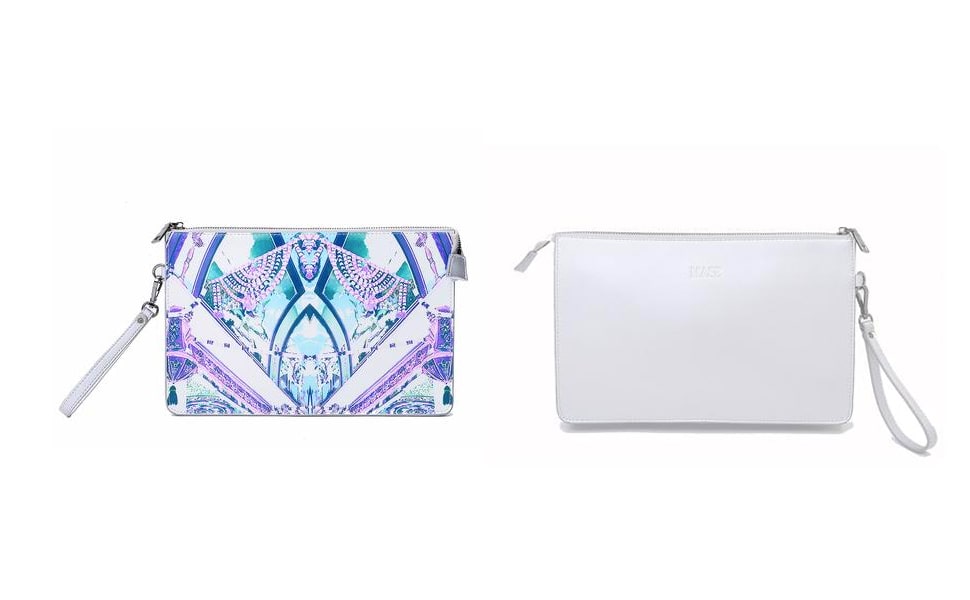 These designs are characterized by Mae Kwan's signature bold and vibrant prints which are composed by story-telling, matched with color therapeutic methods, allowing one to be self-expressive and creative with the way one dresses and decorates one's home.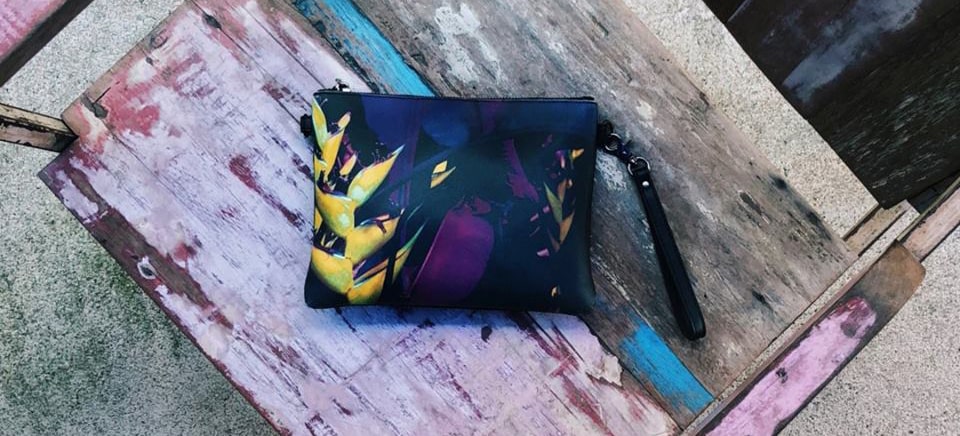 "Mae is inspired by architecture because of her professional training and also for the organic forms found in nature. Also, books that she reads, people she meets and their stories. For her, the most important thing is to design something that is both practical and aesthetically pleasing. She believes designing handbags that inspire people to have fun with fashion is ideal. Fashion is a way for us to express ourselves rather than merely following trends, she says. Every bag is art driven so she personally designs all the prints giving to each one a unique story. MASE as a small label, is always striving to produce high-quality handbags whilst keeping the prices reasonable and affordable. They believe in producing affordable luxury fashion that is unique and long-lasting. They are one-of-a-kind statement pieces."
.
If you found this article helpful leave a comment, or just share!