In Hong, Kong Rooftops Are Too Many And Definitely, The Place To Relax The Mind, Unwind, Eat, Coffee And Experience To See The World In A Bigger Picture. Here Are On My Experience The Ones You Deserve A Visit!
HONG KONG. BEST ROOFTOPS.
There is something about seeing everything through a new perspective, something about seeing the world from above and something peaceful and quiet. This is probably the reason why people opt to escape from all the stress on the ground and busy streets. In Hong Kong Rooftops are too many and definitely, the place to relax the mind, unwind, eat,coffee and experience to see the world in a bigger picture. Here are some of the best rooftops -on my experience- with good food and view you deserve to visit!
ToTT's and Roof Terrace
If you are into steak, ribs, fries, seafood, tapas, sushi with lots of moets and a good view of Victoria Harbour and skyline view, this place is for you! The ToTT's and Roof Terrace comprises of indoor and outdoor sophisticated, wining and dining. Showcasing an impressive menu coupled with a contemporary bar, embrace the elegance and charm this place exudes. The restaurant is not too crowded and not noisy at all. Thus, very suitable for dates or business lunch.
How to get there:
281 Gloucester Rd, Causeway Bay, Hong Kong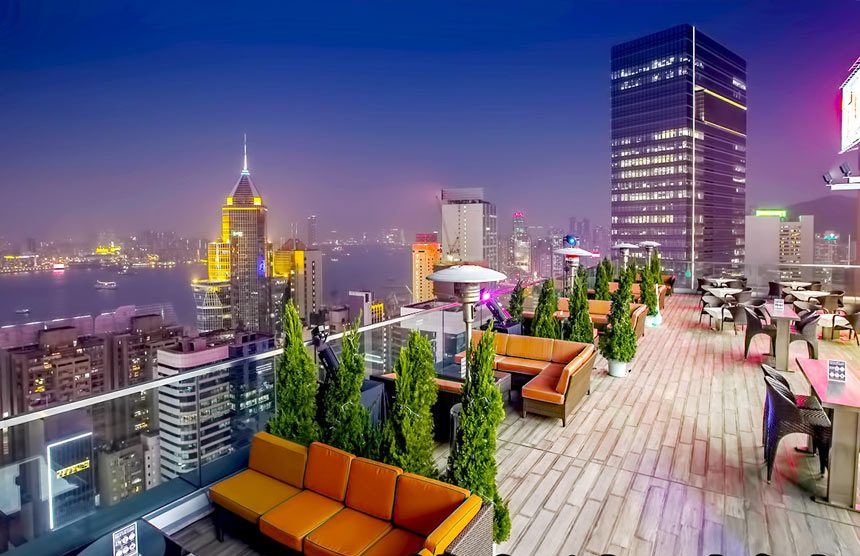 CÉ LA VI Hong Kong
An Asian fusion restaurant located in 25th Floor of California tower in the heart of Lan Kwai Fong. CÉ LA VI comprises three individual offerings fusing seamlessly to create a unique and flawless, multifaceted experiences.
RESTAURANT & TERRACE (24F) – Savour Modern Asian Cuisine inspired by our Executive Chef Jason Au.
CLUB LOUNGE (25F) – Indoor area suitable for cocktails, product launches, private parties.
SKY DECK (26F) – with breathtaking views towering high above Lan Kwai Fong, the Skydeck offers sweeping views of the Hong Kong skyline.
They do have a vegetarian selection on a separate menu which is a big plus for those Veggie-lovers and Prices were on a mid-range. So, there's Asian fusion food, cocktail area and a view of the city.
How to get there: 
25/F California Tower, 30-32 D'Aguilar St, Central, Hong Kong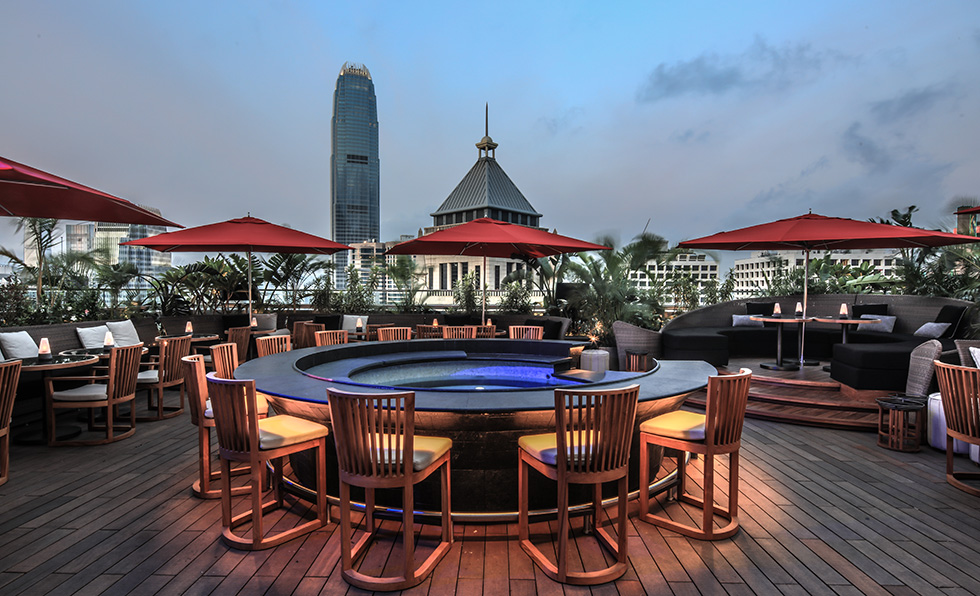 PiqNiq
One of the coolest alfresco spaces in town, Piqniq is decked out with comfy seats, bean bags and even one of Yayoi Kusama's iconic polka-dot pumpkins. In this fun and whimsical space, you can enjoy a variety of 'piqniq' baskets filled with international fare that is perfect for IG Posting, as well as various wines, champagnes, and classic cocktails.
How to get there: R/F (Rooftop) HQueens, 80 Queen's Road Central, Central, Hong Kong
Armani Privé
Armani/Privé Hong Kong is a bar with two different faces:
It is located on the 3rd floor of the famous and luxurious shopping center Landmark, right in the heart of Hong Kong Central. One part upbeat indoor lounge club with live DJs and dancing late into the night and,
It's located upstairs rooftop terrace with a much more chill-out vibe. It has an exclusive modern setting with large sofas and cozy chairs. So, if you want a chill and relax, This place is for you.
How to get there: 8 Connaught Rd Central, Central, Hong Kong
Eyebar
Is located on the 30th floor of the iSquare Building, right next to the Tsim Sha Tsui Station. With a Chinese-inspired maritime theme, it has a spacious indoor lounge with floor-to-ceiling windows and a cool bar, but it is the outdoor terrace that is the top spot. This terrace is really the place to catch some of the very best views of Victoria Harbourand the Hong Kong Island skyline.
They offer ice cold beer and exotic signature cocktails, like the 'Grape Expectations', made with gin, grapefruit, lime, vanilla and yogurt liqueur. There is also a nice selection of Asian-inspired bar bites.
How to get there: ISQUARE, 30/F, 63 Nathan Rd, Tsim Sha Tsui, Hong Kong
Shelter Italian Bar & Restaurant
One of their highlights here is their Swinging Pods with a stylish dining area and bar seats. This is a lovely al fresco restaurant with a large garden-like terrace, complete with vegetables, herbs and fruit trees. This is really the rooftop bar that you want to visit if you want to relax. They offer hearty Italian cuisine with a modern twist served with a really nice view over Causeway Bay right amid the city's skyscrapers.
How to get there:  7th floor of the Hysan Place shopping center, right next to the Causeway Bay MTR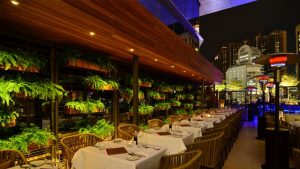 Above by Komune
This terrace is quite small but colorful, stylish and affordable with greenery and lounge sofas creating a soft, garden-like setting. Here you can enjoy breakfast, brunch and South American sharing plates with an Asian touch, along with beautiful and well-crafted signature cocktails and craft beer. This is located at the south coastline of the Hong Kong Island, away from the hustle and bustle of the city center.
How to get there:  64 Wong Chuk Hang Rd, Aberdeen, Hong Kong
So, what drives you to rooftops? Is it being able to go to a rooftop and be surrounded by natural elements? Or is it (Green) plants that just makes us feel better? It's a destination that allows a lot of us to get away from the day. You're stressed out all day at work. You just want to get out and go for a drink with your friends or family. Or being in an outdoor garden environment allows us to be a little more relaxed.