Afternoon Tea is one of the most relaxing ways to spend your weekends -and one of my favorite things to do in town-. After achieving those life goals you deserve yourself a treat. Shopping, Beach bumming, Travel tickets to an island. Or catch-up with your best gal with an Afternoon Tea. A vintage and exciting thing to do, using fine china sets, scones, finger sandwich, jams, milk, and common faux pas while quality talk is a unique way to connect with your squad over the weekend.
Afternoon Tea is credited to late Queen Victoria's life long friend Anna Maria Russell, 7th Duchess of Bedford. It serves as a mid-meal between lunch and supper because during the 19th-century supper is usually serve at 9 in the evening, such a long wait between meals.
A gem of a good cup of Afternoon Tea is just hiding in plain sight in the Hong Kong Kowloon area. The Cafe Parlour at House 1881. Cafe Parlour is serving them from 14:30 up to 17:30. With an exquisite experience between a fresh cream coffee, prepared of the season and mouth-watering Three-Tiered Tea Sets you can indulge into its fine chinas elegant Victorian-inspired architectural interior per hours. 
ABOUT THE LOCATION
Cafe Parlour is located in the main building of the House 1881 main building.  Hong Kong was once a British colony before it becomes a Special Administrative of China. Hong Kong had inherited this afternoon customs of the British so you may also want to visit its Heritage Hall to learn the history that the building had witnessed from its first tenants, Marine Police, to Japanese Occupation in the mid-40s, to its glorious renovation to become what it is today.
Cafe Parlour is very famous with their signature afternoon tea, the restaurant is inspired by Victorian-era architecture, so the scenery will surely be enjoyed by the guests. The restaurant also serves homemade cake and pastry that indulges every corner of taste palate. Be ready also for the mouth-watering lobster bisque, and fish and chips.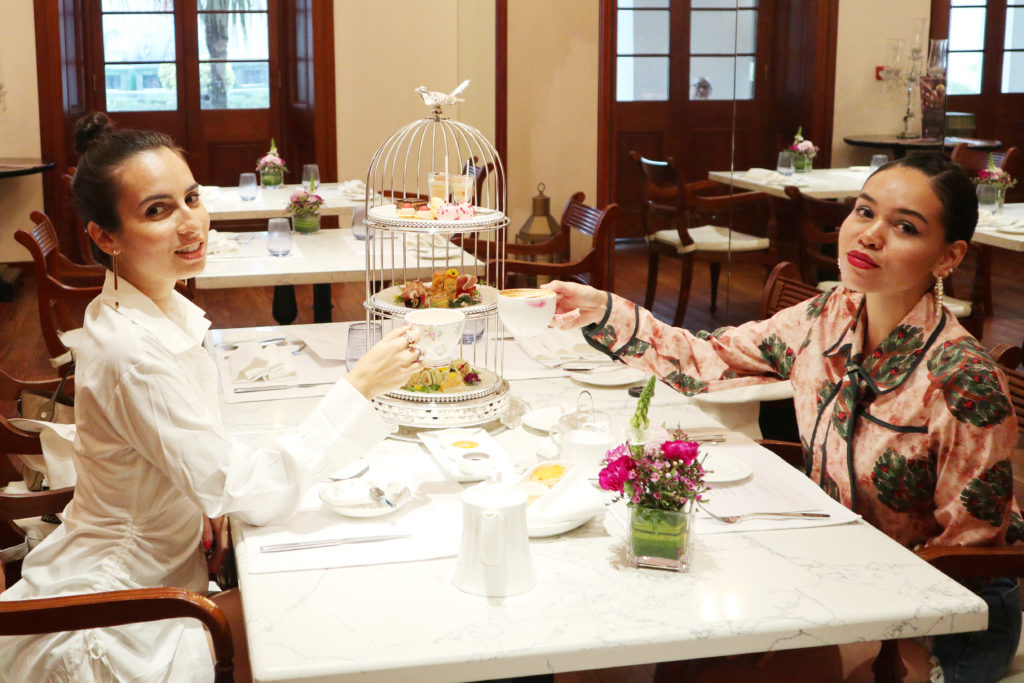 This is one of the best Afternoon Tea-go-to restaurants in Hong Kong, due to its very unique location. The mix of environment and Tea Experience itself makes it perfect. 
Let's start by saying that Cafe Parlour is located at the House 1881. The Former Marine Police Headquarters of Hong Kong. The area significance and magestuosity come from back in history. It was built in 1881 and re-built in 1996 after being declared as Monument in 1994 under the Antiquities and Monuments Ordinance. 
Afternoon Tea is a social event -and for my girls and me, a must-. This helps us to engage in a more quality – shared time. And based on the latest research, sharing social events like Tea Afternoon helps to develop better EI or Emotional Intelligence.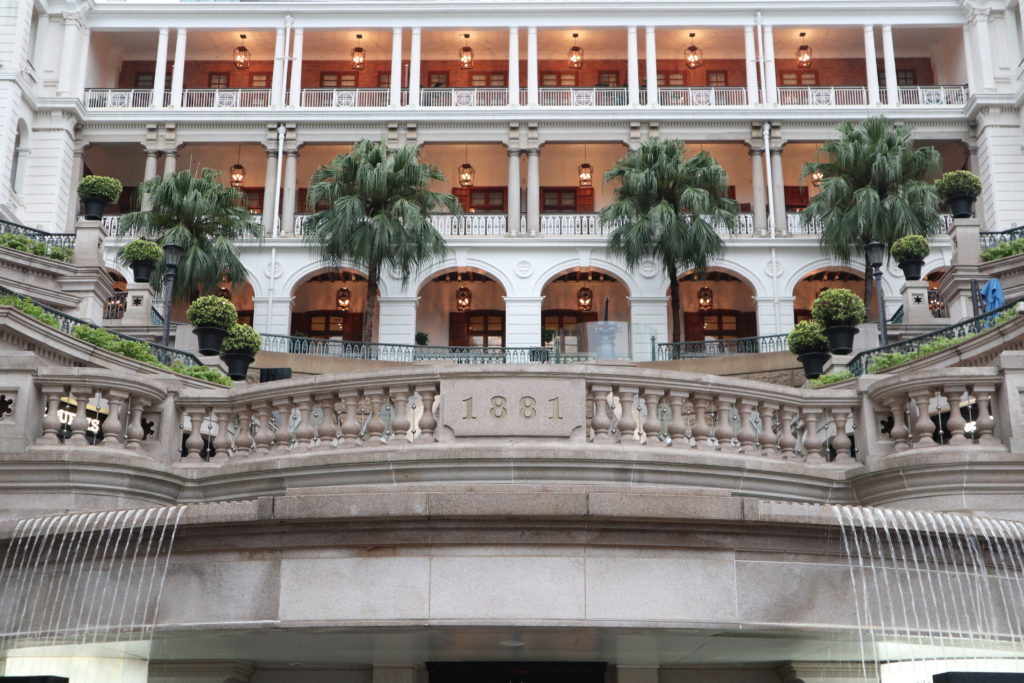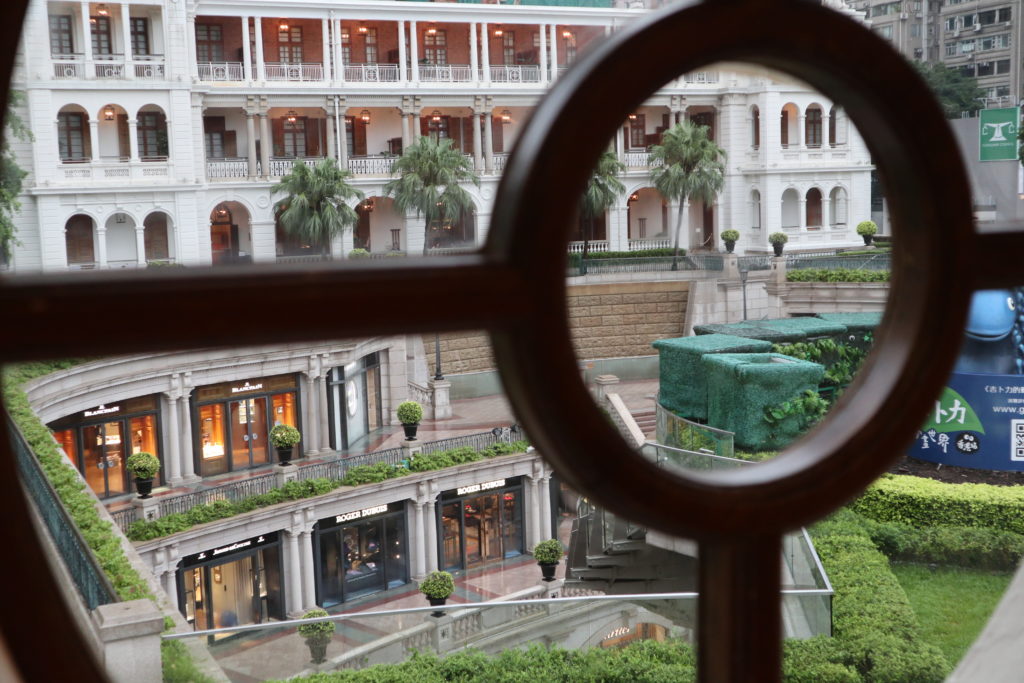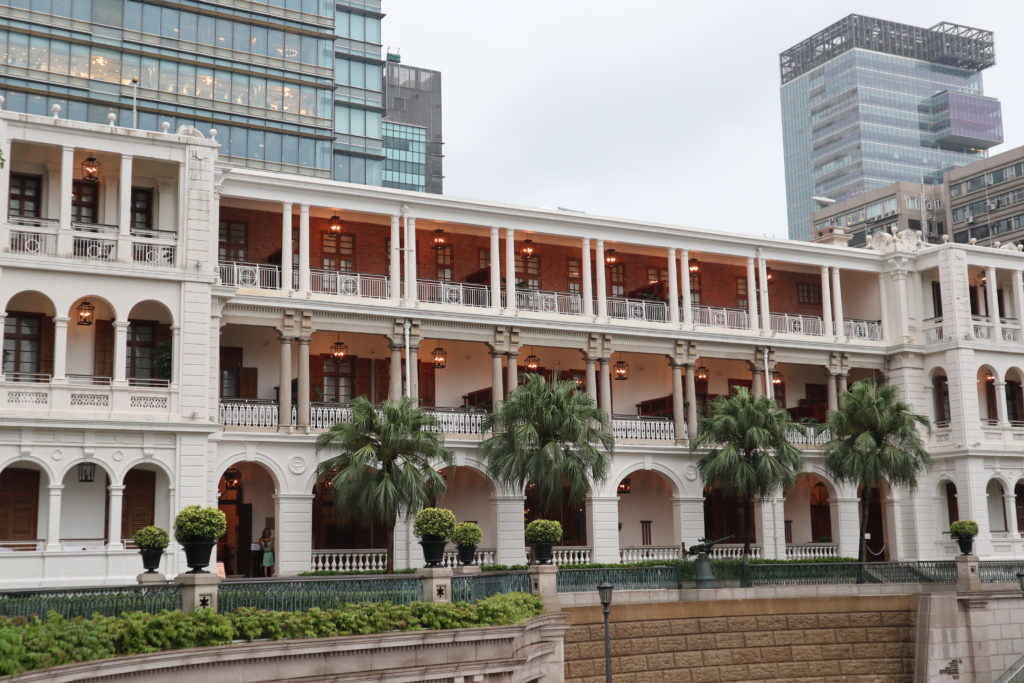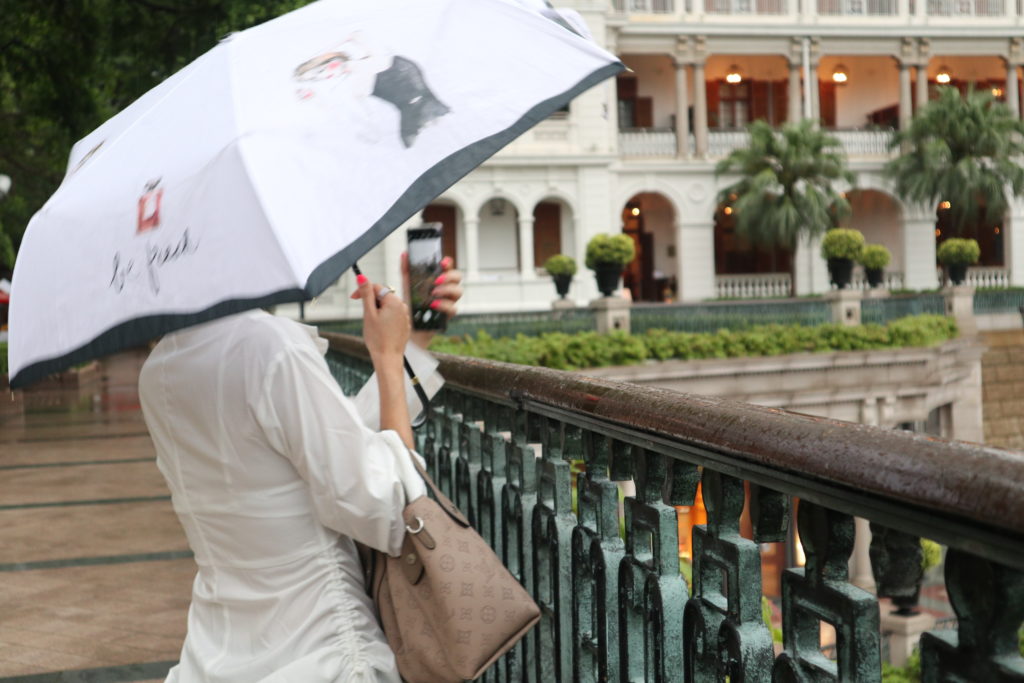 ABOUT THE TEA
At Cafe Parlour, the Afternoon Tea comes on seasons. The place hosts 4 types of Afternoon Tea all year round, including seasonal ones made for festivities which you can order beforehand subscribing to their website (link of the website here).
Every new season, every new Tea Afternoon Theme. So, in this visit with @vasimav we had a set made for summertime. All sets are done with fruits and products for the seasons so this one, in particular, had a special mix of flavors. From raspberries to chocolate, including salmon and even a pinch of gold on it.
Depending on the season you can find some of the following 
Sweets:
Champagne White Peach Tea Verrine

Matcha Cherry Financier

Rose Hibiscus Sphere on Raspberry Macaroon

Vanilla Lemon Ginger Meringue Tart

Earl Grey Milk Chocolate Bavarois on Tea Sable
Savory:
Lobster Terrine with Lady Grey Jelly

Mango & Crab Rice Roll

Mini BBQ Pork Burger

Escargot Vol-Au-Vent with lemon Ginger Tea Provencale

Sweet Corn and Tofu Puff

Crispy Iberico  Ham Toast with Salty Egg Dips
Homemade Scones:
Classic English Scone

Traditional Raisin Scone

Served Clotted Cream & Homemade Jams
In the latest Season; each set is served with two pots of special tea chosen for the Season. Also, you can add coffee and if you feel fancier extra champagne on it.
The Seasonal Tea Set will change depending on seasons and which depends on the ingredients used within the Set. For example, we were served the "Grilled Watermelon with Parma Ham & Walnut." in this case, different melons or cantaloupes with the Parma Ham were used and the Watermelon gave a certain freshness to the plate. With the innovative creativity of the chefs, the Tea Set might have different items along the way to give different seasonal experiences every time they go to Café Parlour that is why its a place not to miss every season.
About eTEAquettes
If you are a beginner in the Afternoon Tea experience thing.  Here are some eTEAquettes tips to follow during your Tea session:
There is no actual dress when going to it, but it's always advisable to wear smart casual otherwise specified by the shop. Nowadays, millennials always fond of Instagrammable photos, so going to an afternoon thing is always the best excuse for ladies to dress up a little!
Scone is your new favorite
It is always thought by many that eating your scones with fork and knife is very English-like and mannerly. Well, you are wrong. Use your hands, break a scone into, spread your cream and jam, and indulge your mouth with the sumptuous homemade scones of Cafe Parlour
Dunk a biscuit into your tea
This should not be a tip, this is a never ever must do. Remembering that afternoon tea is a highly social event, especially when you are at a very fine restaurant. Although dunking your biscuits can be done privately, let's say when you're having your tea at home with your family, this will be more acceptable.



Type of Consumable Teas
As much as many teas you may want to try in a single afternoon tea, you may opt into one flavor. With the various selection, it is hard to decide which is good. Selecting your is sometimes based on which kind of sweets or savory you will be having. If you do not know much about tea, it is good to ask your server which he/she may recommend, after all, afternoon tea is a social event.
When making your tea, you remember 2 easy steps: first, place your spoon at 6 o'clock position of your cup; second, gently stir the spoon towards 12 o'clock of the cup; repeat steps one and two as desired, but not overdoing it. Also, it is a MUST to remember not to "clink" the sides of the cup while stirring, because it is really annoying at a very serene and quiet afternoon tea.
As much as we want to look so formal, most people always missed this one. Most people thought that drinking your tea with your pinkie up is always the way, some say that this helps to balance the cup. This common mistakes that are just slightly silly. It is not really recommended out your pinkie while drinking your tea.
Despite all of these tips, you might forget having fun while having your afternoon tea and stress yourself out remembering those tips. Afternoon tea is meant to be fun and memorable. Have a great time with your girls, have a wonderful cup of tea!
How to get there
Address: Main Bldg, 1881 Heritage, 2A Canton Road, Tsim Sha Tsui, Kowloon
Phone: +852 3988 0000
Email: info@house1881.com
Price: $630