Chinese New Year Is Celebrated By More Than 20% Of The World. It's The Most Important Holiday In China And To Chinese People All Over. 2019 Is The Year Of The Earth Pig, Discover In This Post What Is It About.
CHINESE NEW YEAR. EARTH PIG MEANING.
The Chinese Zodiac, known as Sheng Xiao, is based on a twelve-year cycle, each year in that cycle related to an animal sign. These signs in order are the rat, ox, tiger, rabbit, dragon, snake, horse, sheep, monkey, rooster, dog andpig. It is calculated according to Chinese lunar calendar.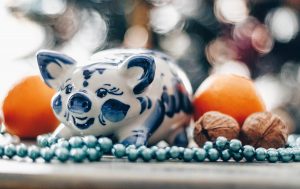 Ancient Chinese people had the skill to calculate the history of five thousand years and record the chronological sequence of events. They invented a measurement by two sets of signs in a certain sequence. As early as about 2700BC, the ancestor of the Chinese nation, Yellow Emperor (Huangdi), sent Da Rao Shi to create a calendar system. Da Rao Shi explored the rule of changes between sky and earth, as well as that of the four seasons. Then he created ten heavenly stems and twelve earthly branches to make combinations representing a sexagenary cycle.
A year can be represented by the composition of two characters, one from the heavenly set, and one from the other. That is believed to be the start of the stem-branch calendar. Thus came a way of counting time which has been passed down through thousands of years as the ten heavenly stems and twelve earthly branches.
The 12th Position in Zodiac Sign
The Pig occupies the twelfth position in the Chinese zodiac after the Dog, and before the Rat. Animals in Chinese zodiac were also created for counting years as the system that is now universally accepted based on the Gregorian calendar.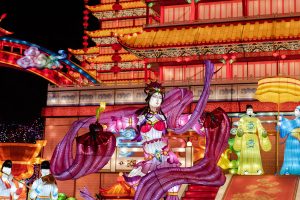 Pig is not thought to be a smart animal in China. It likes sleeping and eating and becomes fat. Thus it usually features laziness and clumsiness. On the positive side, it behaves itself, has no plan to harm others, and can bring affluence to people. Consequently, it has been regarded as wealth.
The selection and order of the animals that influence people's lives very much were originated in the Han Dynasty(202BC – 220AD) and based upon each animal's character and living habits. The old-time division was mostly related to number 12: one "ji" equals 12 years, one year has 12 months, one day has 12 time periods called "shi chen".Ancient people observe that there are 12 full moons within one year. So, its origin is associated with astrology.
The myth says the Jade Emperor said the order would be decided by the order in which they arrived to his party. The pig was late because he overslept. Another story says that a wolf destroyed his house. He had to rebuild his home before he could set off. When he arrived, he was the last one and could only take twelfth place.
Pigs have a beautiful personality and are blessed with good fortune in life.
The pig is a symbol of fortune in many Asian countries. But 2019 is considered very special because it is the "Year of the Earth Pig," which only comes around every 60 years. Earth and pig both signify wealth and abundance, so many people are hoping the upcoming year will be much more prosperous and joyous than previous ones.
Traditionally last 15 days, from the first day (during a new moon) to the 15th day (next full moon). Each day holds a special significance that varies according to local traditions. But first, before the arrival of the new year, homes are thoroughly cleaned to sweep away ill fortune and to welcome good luck. On New Year's Eve, there are family gatherings to celebrate and enjoy sumptuous traditional feasts and to greet the new year with fireworks at midnight.
In the days that follow, festive dance parades are held featuring colorful dragons or lions, ceremonies are held to pay homage to deities and ancestors, children receive money in red envelopes, gifts are exchanged, extended family members visit each other, and there's more traditional feasting.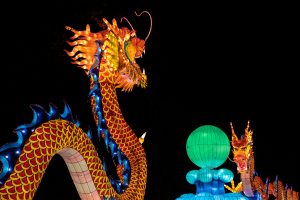 The celebration culminates on the 15th day with the Lantern Festival; on this night of the full moon, families mingle in the streets carrying lighted lanterns, often creating a beautiful light display.
There are several variations on the mythology behind Chinese New Year celebrations. Most are based on an ugly, bloodthirsty monster named Nian that would emerge on the last night of each year to destroy villages and eat people. A wise elder advised villagers to scare the monster away with loud noises. That night, they set fire to bamboo, lit fireworks, and banged their drums. The monster, afraid of the loud noises and lights, ran away to hide in its cave. In another version of the myth, an old man persuaded Nian to turn its wrath on other monsters, not the villagers. Before he was seen riding away on Nian, the old man was actually a god. He advised the people to hang red paper decorations in their homes and set off firecrackers on the last night of the year to keep Nian away.
A sneak peek of what 2019 will be for us thanks to ChineseZodiac:
Are you curious? You can use this Chinese date calculator to search for your Chinese zodiac animal sign. Select your Gregorian date of birth, and you'll reveal it according to the lunar calendar, together with your sign.