Water is the source of all life. 70% of the human body is consists of water, and water covers a large amount of our planet. Our bodies are naturally made up of mostly water. It's essential to keep us from feeling fatigued, strengthening the immune system and heart function. Overall; keeping us alive!
It is important to know that there is another way to approach health today, and that is to restore the body's natural mechanism. It doesn't need to be supercharged or ramped up! The body just needs time to work on its own. Forget about green juices and cucumber slices floating in the water. The latest wellness trend is water infused by crystal. Crystal bottles are on-trend because it is a convenient method for keeping crystal elixir with you. You can take it to the gym, to work, to school and wherever you go.
A crystal infused water is simple yet effective way of working with the healing energy of crystal and gemstone. When pure water is infused with crystal, vibration charged with the healing properties of the stone. It will then be used to promote healing and wellness.
Crystals were discovered thousands of years ago and in fact, one dates back to 4.4 Billion (yes Billion!) years ago! They have been used by thousands of people around the world to help many different things such as warding off negative energy or bringing confidence to one's self. Crystal water bottle has the ability to enhance the functions of the mind and body throughout the day.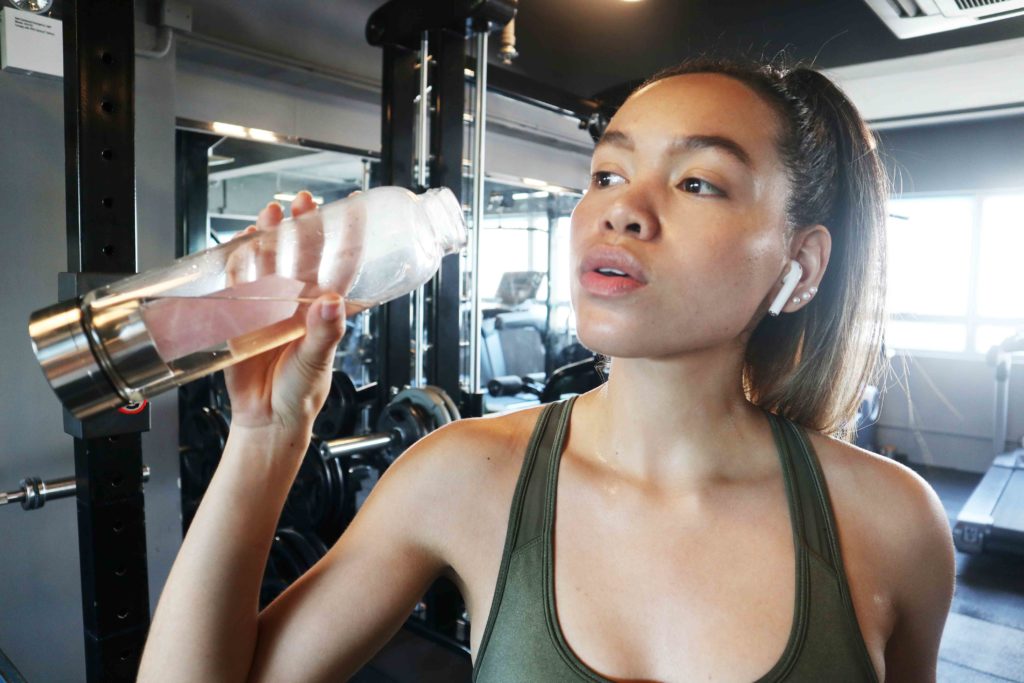 WHY GEMSTONES?
Unlike regular water bottles, using a healing crystal water bottle combines hydration with natural healing properties from the crystals. Gemstone gives off an energy that can be used to heal the body. Crystal stones have a higher frequency than any minerals and its strong energy field is used for personal vibration. 
Water bottles containing pure natural crystals produce a crystal elixir. This crystal elixir water bottle encourages rejuvenation and clarification of both the body and mind, introducing purification and positivity in the everyday routine.
Turn your water into a Gemstone Elixir and start cleansing, recharging and reviving yourself from inside out.
THE TYPES

Amethyst

Crystal Water Bottle
Drink from Amethyst Water Bottle if you want to promote calm and peace. Being a natural tranquilizer amethyst will help you find a healthy balance in your everyday life. Amethyst is helpful when you need to use critical thinking. 
Do you find yourself in situations where your emotions interfere with making decisions? 
Then you need to bring an amethyst in your life! Therefore, Crystal Water Bottle with Amethyst is a real gem for people who want to balance their mood swings, relieve stress and anxiety. You will notice how amethyst is helping you in facing the challenges and handling them with great success. Take it with you for a walk, hike or brunch.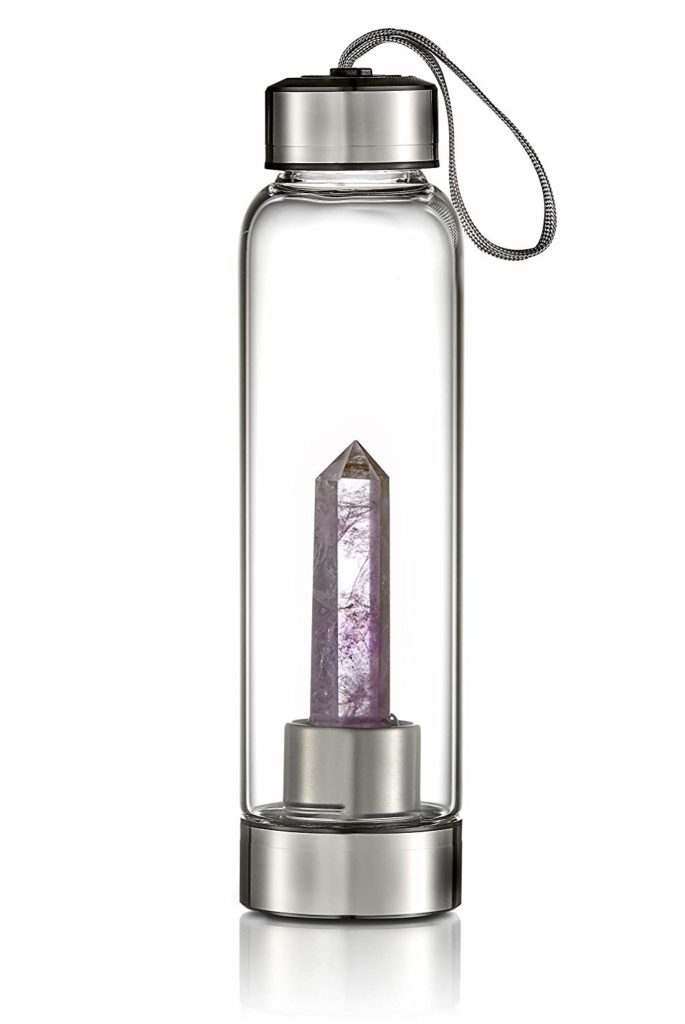 How it works:
Keep an amethyst water bottle on your nightstand and drink before going to sleep to protect yourself from recurrent nightmares

When infused in water, amethyst can ease headaches, release tension and relieve physical, emotional and psychological stress. It strengthens your immune system.

Drinking from Amethyst Water Bottle is going to bring calmness and clarity to your life.
Rose Quartz

Crystal Water Bottle
The Crystal mother of gemstones symbolizes irrevocable, unending and unconditional love. If you want to invite love in your life, Rose Quartz Water Bottle is best for you. Not only has Rose Quartz sent off strong vibrations of love and warmth to the world, but also promotes self-love.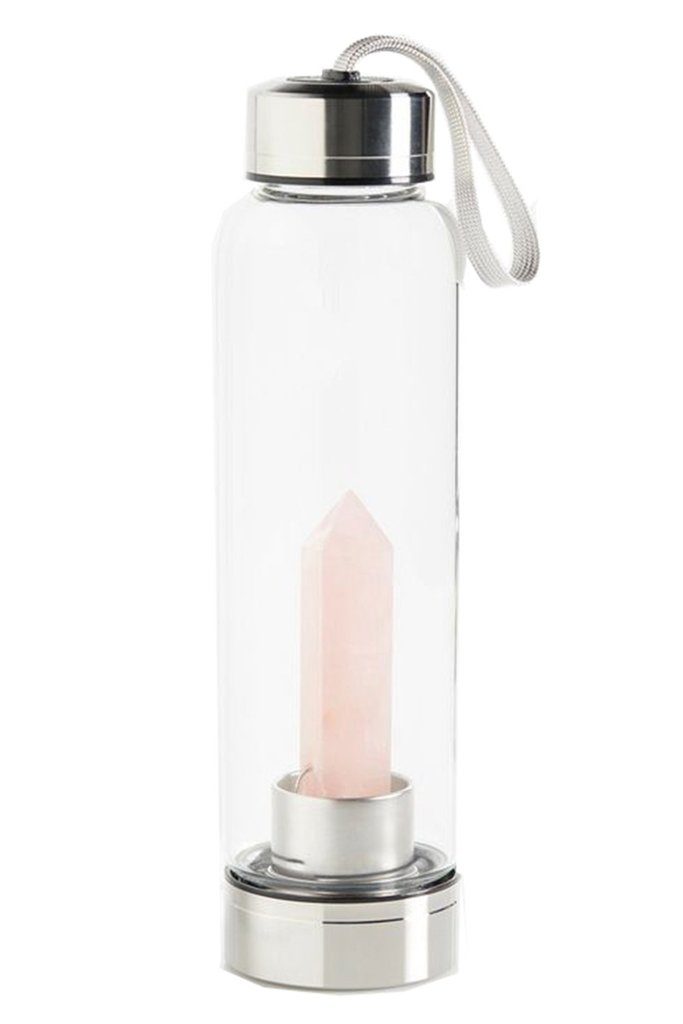 How it works:
Drink with rose quartz to remind yourself to practice self-love and encourage self-discovery. Keeping Rose Quartz close serves as a great reminder to accepting and loving yourself as you truly are.

 

Rose Quartz is going to help you find a wide-open and balanced heart. The key to a happy and full life is to give and receive love. You will find that your heart is healing old hurts to make room for peace, tranquility, and compassion. 

Drink from Rose Quartz Water Bottle when you are dealing with personal trauma or stress. You will feel that you are ready to heal and move forward. Even one drink a day can help you overcome your fears, challenges and let the love in your life. Crystal Water Bottle with Rose Quartz will help you with insomnia and troubled sleep. 
The pure energy of Rose Quartz strengthens the muscles of the heart and can even help with blood circulation problems. Infused in water Rose Quartz does magic to your skin. It improves your skin complexion, reduces wrinkles, clears up pores, gives your skin a soft and glowing look.
Clear Quartz

Crystal water bottle
Clear Quartz Crystal offers balance and clarity. The clear quartz is commonly referred to as "the master healer". One of the most powerful crystals and can be used to heal any condition. Drinking from Clear Quartz Water Bottle is going to increase inspiration and creativity. It enhances awareness and improve your perception of the surrounding world. 
Clear Quartz will filter out and remove all the distractions that interfere with focusing on your intention. Keep a Quartz Water Bottle close whenever you need to concentrate or make a decision. You will start to see things clearly and will know how to act fast and effectively.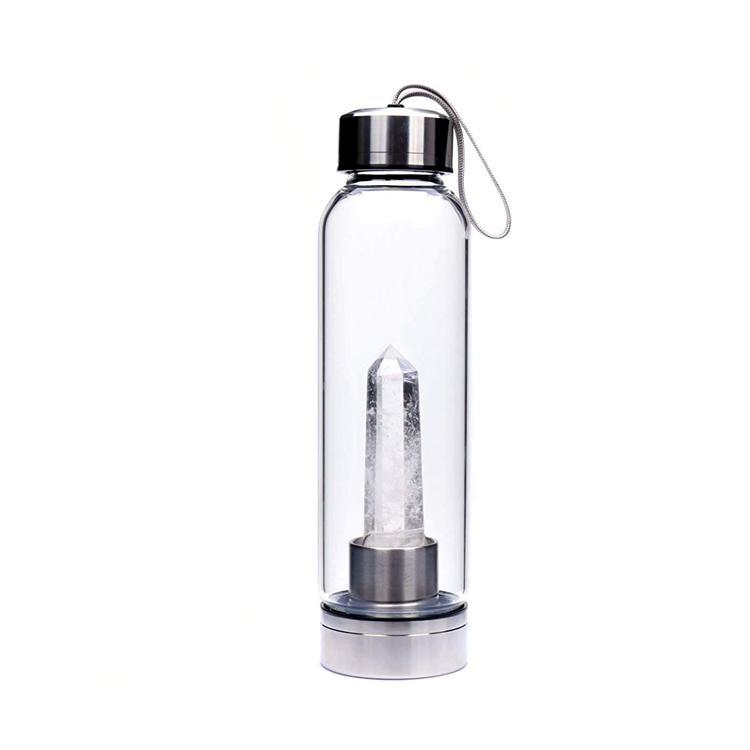 How it works:
When infused in water it releases strong energy that is great to use for positive affirmations. 

It amplifies any energy or intention and helps you reach your goal. Clear Quartz Water Bottle is a great tool to keep close throughout your day to day activities.

 If you are nervous meeting new people or have to deal with negative environments at work or elsewhere, chose Clear Quartz. It will help you hold the positive energy in and keep the negative energy out. 

When you feel stuck and do not know what to do or say Clear Quartz will help you overcome self-doubts and anxieties that might be holding you back. 
Drinking from a Crystal Water Bottle with Clear Quartz will stimulate your immune system and cleanse all the organs. It helps to revitalize the physical, mental, emotional and spiritual planes.
Obsidian Quartz

Crystal Water Bottle
Obsidian is going to keep all of your doubt and uncertainty away. It is a powerful protection stone, forming a shield against negativity. It helps dissolves energies that stir up restlessness, irritability, and nervousness. Also, release tension and increase inner strength, providing support during change and helping to move forward in life from trauma.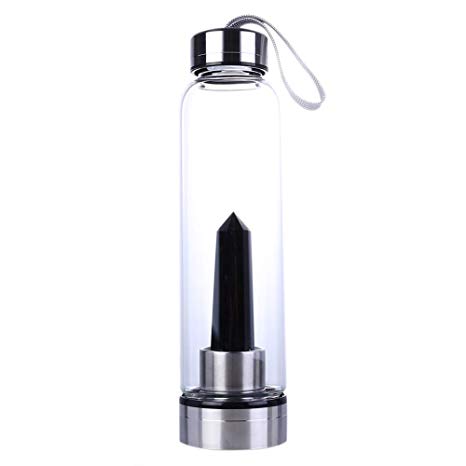 How it works:
Hold an Obsidian Crystal infused water bottle close when you need to boost your confidence and faith in yourself. Confidence starts in revealing the secrets and accepting yourself. 

Drink from the Obsidian Crystal Water bottle if you are searching for truth and have questions about life and love. Being a stone of truth, it will help you find the meaning and stick to what really matters. 

Obsidian will literally keep you on a solid footing by strengthening your muscles. Infused in water Obsidian will release its healing properties and draw out the stress and tension from your body.

 It is helpful if you feel fatigued or ongoing headaches. You will notice a soothing calming effect.
Smoky Quartz

Crystal Water Bottle
Smoky Quartz is a powerful shielding stone that protects against negative energy and bad vibes. It's excellent for elevating moods and overcoming negative emotional blockages. One of the most efficient grounding and anchoring stones, Smokey Quartz is another stone that good for blocking electromagnetic smog.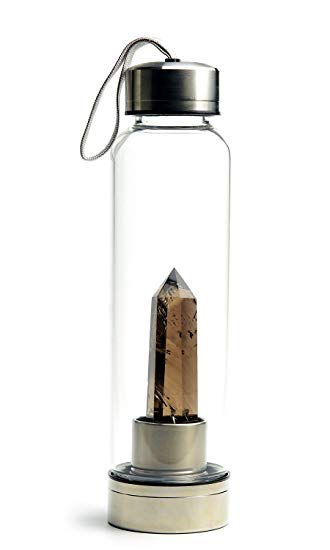 How it works:
Relieves stress, anxiety, fear, self-doubt, and other negative emotions by transforming them into positive energies. 
Smoky quartz is a stabilizing stone for enhancing and encouraging confidence and inner strength
It is effective at treating abdominal problems, hips, and legs.  
It aids things like cramps by helping the body absorb minerals and regulate fluids.
Citrine Quartz

Crystal Water Bottle
Citrine is believed to exude positive energy encouraging fullness of life, new beginnings and fresh pursuits. There is something incredibly energizing and glorious about the Citrine Quartz. Citrine Crystal water bottle spark as it carries the power of the sun. 
Is a gemstone that enhances mental clarity, confidence, and willpower. Since the stone brings self-confidence, as well as positive energy, it can also help eliminate fears. It has energies of good fortune and good luck. It is of great help in finding one's life's purpose through a deeper connection to our authentic self.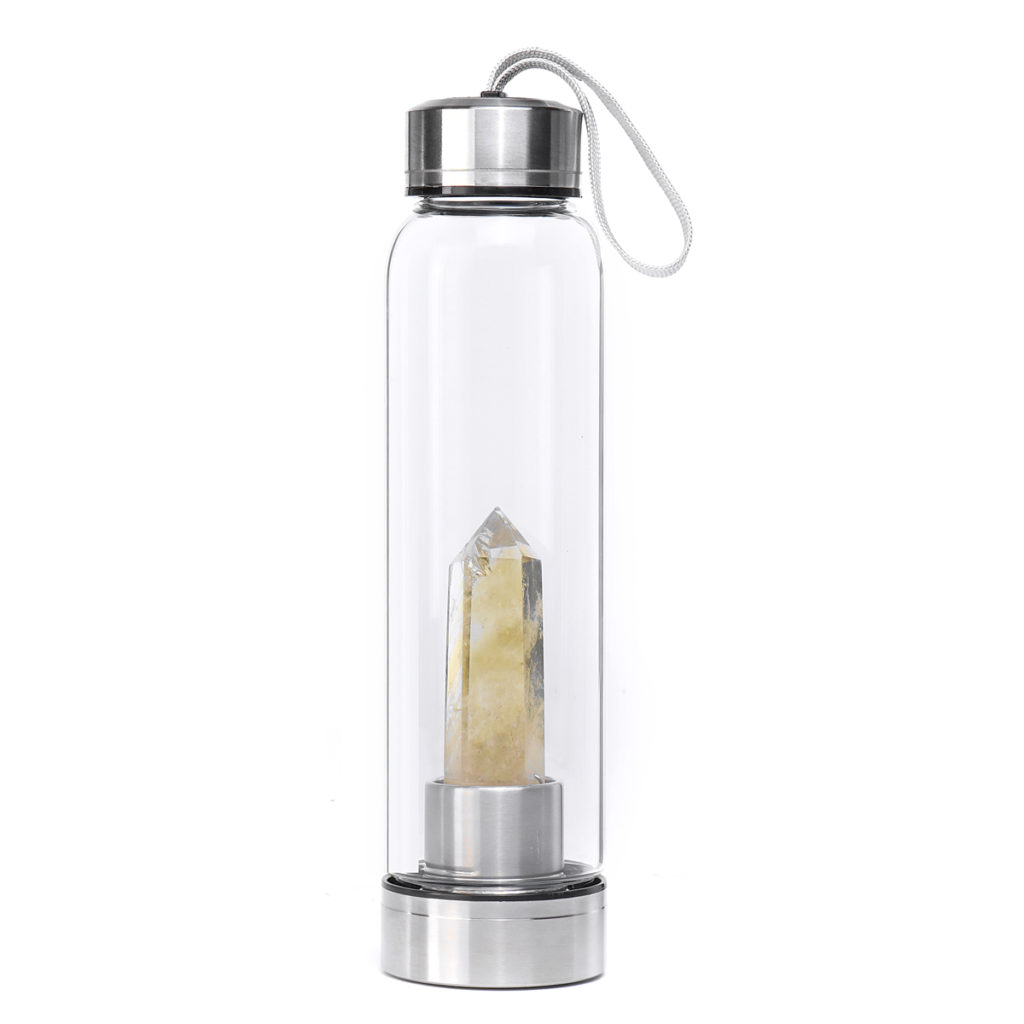 How it works:
Citrine brings warmth, clarity, and inspiration.

This radiates vibrancy and will assist in you in bringing energy flow to soul, mind, and creativity. 

The citrine healing properties are most effective in stimulating an increase in sexual and creative fertility. 

This is the stone of abundance and manifestation attracting happiness, confidence and wealth.
IMPROVING YOUR HEALTH
With a crystal in your water bottle, you are allowing the properties of the crystal to infuse with your water and then by ingesting it, you are amplifying the energy. 
When a crystal elixir water bottle is used, the vital energy in your body will be recharged with health and encouraging it to return to a whole and balanced state. Water healing has the ability to restore balance and heal the body physically, emotionally and spiritually.
Crystals have healing properties that help anyone balance the body, mind and spirit. They serve as a tool to help and align our vibrations with theirs and surges energy to free flow throughout our body. Crystals are valued for their beauty and power for thousands of century.
Maybe that's why the best water in the world is spring water. Not just because it's clean but also because it interacts with crystals that has an amazing ability to assist in this process and their healing properties are a more natural way of restoring any imbalances in the body. Gem water bottles embody this ideology by combining the natural remedies in crystals and in water healing.