Since I Do Work On E-Commerce And Live In China Where Is A Must To Shop Everything Using The Internet Or Any Phone APP. These Are My Top Reasons To Dare Yourself To Give A Walk To The Mall.
DO SHOPPING. AT THE MALL.
Despite the rapid growth of online shopping, some consumers still prefer the so-called "real shopping experience". Having the ability to physically choose, meticulously check out what item or product is like, would look like and what its features are. It is said that shopping is not only about going through the motion and making the purchase. It is the shopping process itself.
When you sift through products and feel the colors, textures and feel them can extremely be enjoyable. Apart from that, shopping is known to be friends or family bonding, wherein you try out products together, catch some movies, visit restaurants and have meals or coffee.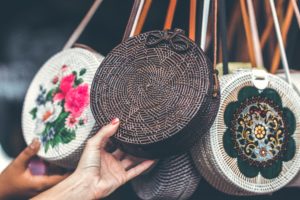 After working on E-commerce, on the factory and outside of it, plus living in one of the places where the delivery and the shopping online is extremely exact on time, refunds, and delivery and adding the fact that you have to be careful in China while buying things on Taobao, T-mall, Aliexpress, Alibaba or even books on DangDang, anything you receive can be totally different or really poor quality compared with what you see on the pictures or expect.
Here are my top reasons why it's still better to do your shopping offline. Personally, psychologically and financially.
     Social Experience: When you shop with family and friends, you tend to depend on each other's feedback. It has its own joy when you try on clothes and ask them how it looks on you. This kind of shopping is fun and you can use the time to bond with your loved ones. On the hand, online shopping can't offer a similar experience. You might be able to purchase your wants and needs more easily but the experience of spending valuable time with friends and family can't be replicated by them.
     Zero Waiting period: You always get to take home purchases immediately after you pay for it. No need wait 3-5 days or weeks to get your hands on it. Another good reason is you get to check out offers and promos when you are alerted. This means that you ignore the blast of offers and promos online unless you are looking for something very specific.
     Authenticity: To make an appealing advertisement of the products and services, some online shopping stores tend to exaggerate facts of the product. On the other hand, real stores have no guts to do so because they must display the products in front of the customers to let them feel, touch and try. So, the advantage of it is the products speak for themselves and the disadvantage of buying online is the products may or may not be authentic.
     Easy Returns and exchanges: in case of replacement, you can just visit the shop during the schedule working hour. Returning the product can be done easily and this will avoid delay and trust issues.
"When you sift through products and feel the colors, textures and feel them can extremely be enjoyable."
Quality and Assurance:
The quality of the product is assured as it is determined by how much you are willing to spend. Most stores stock only products they would personally recommend so that the store's reputation will not be affected. Even if there are fewer options available offline, the product value is higher in this sector. This is especially true in the case of electronic products. When you buy them online, you cannot be sure of its quality unless it is a very well-known brand.
Safety Issue:  
Online shopping is not always safe. You have to expose personal data and credit card information. Some bad people can access personal information easily through the online transaction and steal it for unauthorized deals. By contrast, offline shoppers don't have to worry about those things while shopping on the street. No personal data will be exposed because customers can pay directly to the seller by cash or even a credit card.
Instant Gratification:
In offline shopping, you buy the product and you have it then and there. If you purchase something, you carry the shopping bags as you hop from store to store, and a lot of shopaholics feel pleasure in carrying those multiple shopping bags. Online shopping is all about making the payment and waiting for one day to one week to get hands-on the product. By the time you receive your order you have forgotten what you ordered and why! Also, you may have that one-off experiences when the product you bought isn't what you expected.
Loyalty Cards:
Store promotions, coupons, and percentage sales apply to things you buy in the real store only. Of course! That's how they get you in the building to then buy all the things you didn't plan to, but for a shopper with a plan, you may want to keep going in and getting deals.  Researching online and then buying in the store is always a smart way to go.
Adventure:
The real store gives this kind of hype and elevates the sense of satisfaction in discovering rare finds or great bargains. Sometimes, talking directly to a store owner, you can negotiate to lower the product price.
Develop Relationship:
Despite the benefits of online chat and customer service available by phone, there is a little match for the ability to talk about a purchase with a staff member in a store. They can give the opportunity to ask questions and for staff members to recommend complementary products or alternatives uses for an item you considered buying. Overall, real people tend to add to the positive nature of a shopping experience – which will keep you coming as a customer.
No matter where you find yourself on your next shopping spree – on the couch or down the aisle, make sure you've got the most important shopping list of all by your side with the right budget!
.