A Mindplanner is designed to help you upgrade your mindset through a simple daily framework. A powerful framework that creates better habits, helps you grow and increases your efficiency. A structure that creates success, happiness and, creates life-altering dynamics. This is more than just a planner, this is a new way of thinking and living.
The Company's mission is to create beautiful products. Products that empower and elevate the higher level of mindsets. And of lifestyles for a better living and thinking. As we all know, the way we think influences the choices we make. And we can't make good choices if we don't have an accurate view of ourselves, of others and the situations we're in.
Mindplanner Setting
It is a belief that orients the way we handle situations. The way we sort out what is going on and what we should do. It helps us spot chances, but it can trap us in self-defeating cycles. This is a belief that determines who is successful at what they do versus those who continually struggle. This is where Mindplanner comes along. The ultimate guide for personal growth and to do things consistently without procrastination.
A Fixed mindset can be disturbing because it makes you doubt how good you are. People with a fixed mindset opt-out to prove themselves. In contrast, a growth mindset can improve your ability to see situations that you need to work on. People having the same often show perseverance and resilience. When they commit mistakes, they become more motivated to work harder. A growth mindset thrives on challenges, sees failure not as evidence of unintelligent but as a heartening springboard for growth and for stretching out existing abilities.
In every situation, they can find humor and good things. A positive person could turn failures into lessons and more importantly, they always start the day with positive affirmations. The mindsets change what people thrive for and what they see as success!
Daily Mindset Framework
It is a unique system that helps a person become confident and happy. It helps you gain courage and purposeful living. And helps you move your goals and sharpens your mindset focus. Mindplanner could elevate your wealth mindset.
helps stimulate a positive mindset and celebrate your day. A self-appreciation and letting go practice. A lesson and learning framework for improving the application.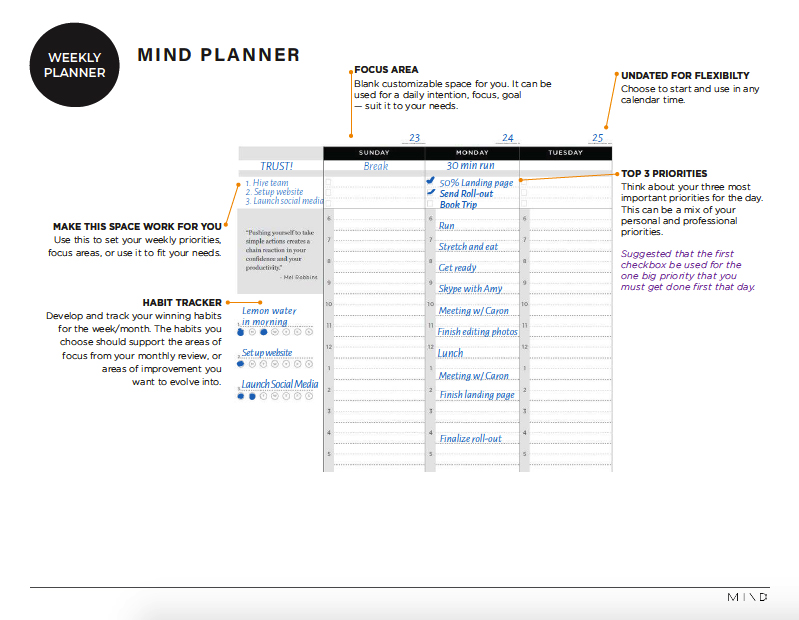 Weekly and Monthly Reviews
Design meets creativity at its finest. Priority grids are suited for you to set focus priorities. It will be your habit tracker with daily quotes. And it will be your challenge activity that keep things fresh to help you grow.
The flagship balance circle.The monthly planner helps you find balance in life for better quality living, well-being, and fulfillment. It Recap highlights the best moments and review what's working on areas of growth for next month. Space for journalizing and notes for the month.
Planning your month can be a game-changer for reducing stress but with monthly planner, everything will be in order. This checklist is for your own customize used to plan your month for an overview. With milestone and goal planning.



Productivity Planners
Supplementary planner
This is a dotted, blank, lined Planner starter. You can customize your own personal needs for creating, sketching, planning and brainstorming. It will strengthen your vision board. It will your journal, and to-do lists or notes.
The number one Personal Growth Mind Planner is available now on Indiegogo!
Get yours here!