Raffles Dubai is one of the most iconic, famous and stunning architectural landmarks in Dubai's skyline. The eye-catching pyramid structure of the facade captures your attention. It is perfectly positioned in the heart of the city, delivering the unexpected luxury of space, impeccable service, and sophisticated style. It is loved by all travelers for the warmth of its service and the sophistication of the aesthetic. 
Inspired by the great pyramids of Egypt, the exotic design reflects an Egyptian pyramid both inside and out. It has an enormous lobby covered with marble and dominated by huge pillars engraved with hieroglyphs. While more contemporary in style, all rooms have a strong Middle Eastern influence in the design. It features handcrafted decorative elements, such as the traditional Mashrabiya. An Arabic technique used on the bathroom doors and shutters, and traditional motifs on the carpets.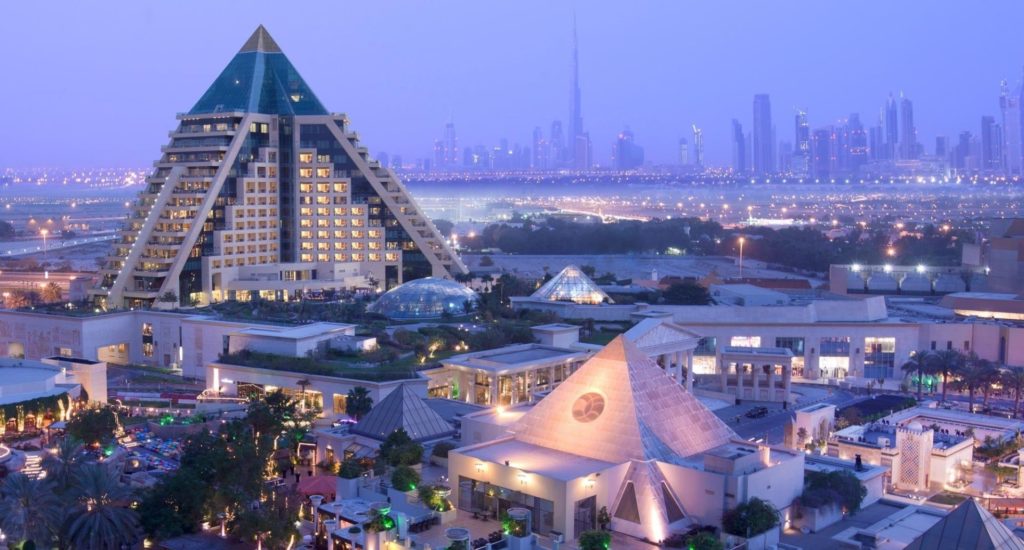 BRAND PHILOSOPHY
At the core of the Grand Luxury is a Passion and unwavering love for luxury hotels, and a never-ending quest for excellence that reveals the soul of places to clients and makes you discover the most facets of any destination you go. The company will give you a feeling of timelessness as they take you on a journey to the very depth of the destinations you want to go to. This stunning hotel has what we called "it's own oasis" as everything in the area is related to Egyptian Culture. I was so amazed as I am a lover of ancient Egypt.  All the architecture -inside and out-  merges Asian style with an Egyptian aesthetic, also gives the feeling of space but not emptiness.  With impeccable service, and sophisticated style you can have a lovely reception with friends or family. Located only 3km from Dubai International Airport and a 10-minute drive to Dubai's business districts and all major shopping, cultural and tourist attractions with easy access to the Dubai metro.
AFTERNOON TEA
At this point, High Afternoon Tea has become a tradition to @vasimav and me on every trip. As you know she comes from doing almost 3 years of interior design for 4 and 5 stars hotels in China and also Hong Kong so in every trip we strive to discover new spaces and designs on her side and fashion, lifestyle, business things on my side.
As Christmas approaches this is the season to be jolly and Raffles Salon is offering a festive afternoon tea Christmas Edition. The Raffles is iconic and famous for its flower afternoon tea, one of the MUST GO afternoon teas in Dubai. At first, this was our to-go option to have High Tea Afternoon as it has been featured on Emirates Women, The Telegraph, High Tea Society and more. Furthermore, we were given the option for the Christmas Tea Set made for the season and served in partnership with Newby Teas. While enjoying our afternoon tea, we could also listen to our favorite festive songs by a live pianist -only for the Christmas Season-. What a holy Christmas gift. 
The design of the Hotel is based and thought to be an Egyptian and make you feel like Royalty. The big spaces and the scriptures on the walls give you a different perspective and a welcoming understanding of the multiple cultures that go hand by hand in Dubai. Overall a perfect mix of Moroccan, Tunisian and Turkish with an exquisite touch of Egypt. Revolutionary and really different from all the other places we had visited in the city. Far from the hip or trendy a chic and classy place to stay and have a different kind of lifestyle experience. 
Located in Wafi, one of the best locations to stay in the city due to the accessibility to downtown and the airport, the hotel is near to the Dubai Healthcare City Metro station which makes it perfect if you like to stay in a high-end place giving chance to have also a local experience. The hotel connects directly with the WAFI Mall one of Dubai's best luxury shopping places, with over 350 shops, more than 30 restaurants, and its own leisure complex!
The Raffles is pretty famous for the Forever Rose collection Afternoon Tea Set, a set themed on the hotel love for roses. You can sense it by the high floral decoration on the lobby and multiple spaces. The famous Rose Collection incorporates the essence of flowers with savoury treats, including salmon with hibiscus extract, fresh mango, herb sponge and basil leaves, sweet temptations -such as Jasmine. When coming to the aesthetics the Rose Tea Set comes with flowers and butterflies that give more of a Victorian-style mini garden that matches perfectly with the hotel itself. You can book this magic flower garden for your next trip here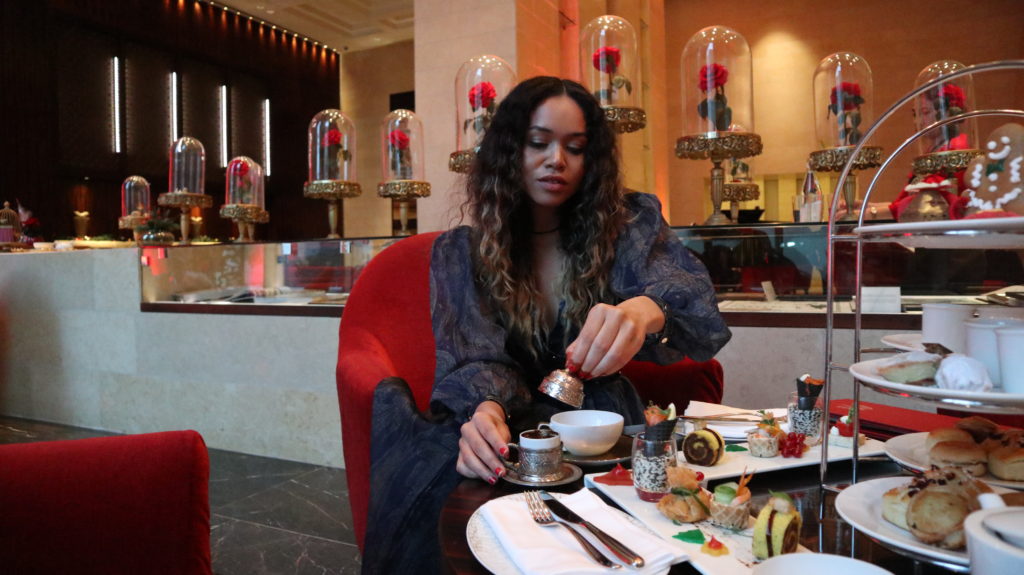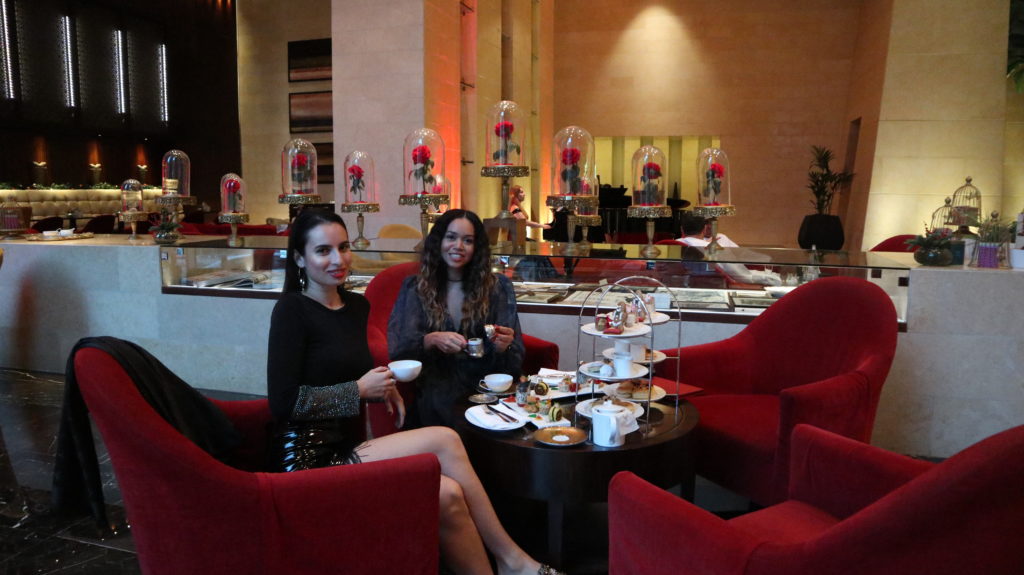 Savour is located at the end of the Lobby, a salon made with scriptures on the walls and huge windows where lights are perfect for any Instagram selfie, our Tea Set was decorated with Christmas sweets including ———–. To fuel the Christmas countdown, there's a giant advent calendar on one wall: doors will be opened every day at 4 pm, to reveal surprise gifts for a few lucky guests. Families can also leave the little ones in the playroom, to paint their own baubles, which will then be displayed on the hotel's Christmas tree. There is also a ginger house workshop -I wanted to join but its only for kids- still kind of sad about it.
As it was my birthday week and last day in Dubai, we definitely wanted to close this trip with something unique and magical. We were stonished with the Christmas Afternoon Tea and all the decor at the hotel, a more EgypChristmassy kind of thing, something different and highlight to our trip which is definitely one thing I look for in brands out there. A place that gives you the experience to think far more than just eat, drink or just visit. The live piano player was also a delight giving a special touch to the gathering.
The afternoon tea at Raffles Dubai was fantastic! With attention to detail services and atmosphere with delicious tasty bite-size Christmas time treats. If you are looking for a quality afternoon tea in Dubai, not only on the Christmas Season but all year round, this is a magic place to bond with your family and friends.