In China Only About 1% Of People Are Christians So Christmas Is Celebrated Only In The Major Cities. It's Not Even A Holiday During December 25th So Here Is My List Of Things To Do If You Ever Stay In Shanghai For This Dates.
CHRISTMAS. STAYING IN SHANGHAI.
In Chinese, "Merry Christmas" is "Sheng Dan Kuai Le" – means Holy Birth Happiness – which is a common greeting to wish someone a Christmas in China, Santa Claus is known as "Sheng dan lao ren" which means 'The old Christmas Man, Christmas Trees are called – Trees of light, Christmas Eve is called "ping'an ye" which means a safe and peaceful night and an apple is known as the fruit of being safe.
And only about 1% of people in China are Christians, so most people only knew a few things about Christmas. Because of this, Christmas is celebrated only in the major cities like Shanghai, wherein Christmas Trees, lights, and other decorations on the streets and in department stores are visible.
They are celebrating, But they do these without much religious attachment and enjoy the City's Christmas markets and Christmas deals at restaurants and bars! It's not even a holiday during December 25th so, Chinese Christians and expats are likely celebrating in a different way.
Try Chinese Cuisine
One of the best things about China is the food. Their traditional food is the most exciting and diverse cuisines. What makes their delicacies utterly irresistible is not just the "aroma, color and taste, but their attention to food texture. Being the oldest civilizations, Chinese people relied on "drying" as a way of preserving food before canning and freezing were invented. And dried exotic mushrooms, scallops, oysters, and shrimps were added to enhance the flavor, fragrance, and texture of the finished dish. Here's their list of Mouthwatering dishes that you must try:
The winter coziness will not be complete until you try the tastiest winter dishes such as; Fresh Chinese Yam with Spareribs soup, which is one of their traditional food that not only warm your body but heal your soul. To add up their Ramen, Dumplings that is already known worldwide.
Chinese Dongzhi Festival
Dongzhi Festival and Christmas are both the most important festivals for the Chinese people and Western people. Because of the culture, there are some different ways to celebrate and this is one of the things you can try in China if you are into trying new things.
The Dongzhi Festival is also a time for the family to get together. And one activity that occurs (southern part) during these get-togethers is the making and eating of Tangyuan (rice balls made from glutinous rice) which symbolizes reunion. In the north of China, people eat Dumplings on Dongzhi.
Christmas Parties
If you are a person that would never want to miss a Christmas on your way, no matter how far it is from home, here are some things that you might want to consider.
House party – you could plan a simple party to get friends together at your place. Plan a simple brunch and ask everyone to contribute something to feast, assign someone to purchase movie tickets ahead of time, ask each guest or couple to bring one part of the dinner and enjoy what everyone has brought.
Karaoke Party – Shanghai is a special city with stunning skyline, stellar cuisine, and vibrant karaoke scene. And V-Show features Hello Kitty, Audrey Hepburn, Coco Chanel, and Astro boy themed-rooms. Their rooms are larger than expected so you don't have to worry about a big group of friends.
Sightseeing
If you want to spend your Christmas on the street to do the winter walking with your winter outfit, shopping, gift buying, meet friends and have fun, these options might be for you.
Shanghai becomes a completely heavenly place during the Christmas days even though few of them are likely to celebrate. The decorations of the city and the Christmas tree of the Shanghai in the downtown, most western neighborhoods, and Disneyland are definitely worth to see. So, winter walks are definitely one of the most enjoyable parts in Shanghai.
Visit Christmas Market
If you want to fully enjoy the Christmas mood, visit the open-air Christmas market located in different parts of the city.
In all of these locations, you'll find literally all kinds of things in these wonderful market including food and other Christmas gifts. An excellent way of combining Christmas shopping with fun.
Cruise Huangpu River
Sail along the Huangpu River, view the skyline of Pudong (modern high rises ), take the awesome sight of the Bund(colonial buildings)… These are just a few things you will do on your cruise.
1st option –  a 3-hour (60km) voyage along the Huangpu to the mouth of the Yangzi River and back allows for the most leisurely and complete appreciation of the river.
2nd Option – (1 hour) that tours the main waterfront area between the two suspension bridges, Yangpu Qiao in the north and Nanpu Qiao in the south.
The cruise pier is located on Shiliupu Wharf, just south of the Bund, No.171, Zhongshan Nan Lu, Shanghai. The embarking dock is Gate 3, Shiliupu Wharf Tourism Center. There are two embarking areas along the long Shiliupu Wharf. Either area is all right as long as you come the right dock for your boating.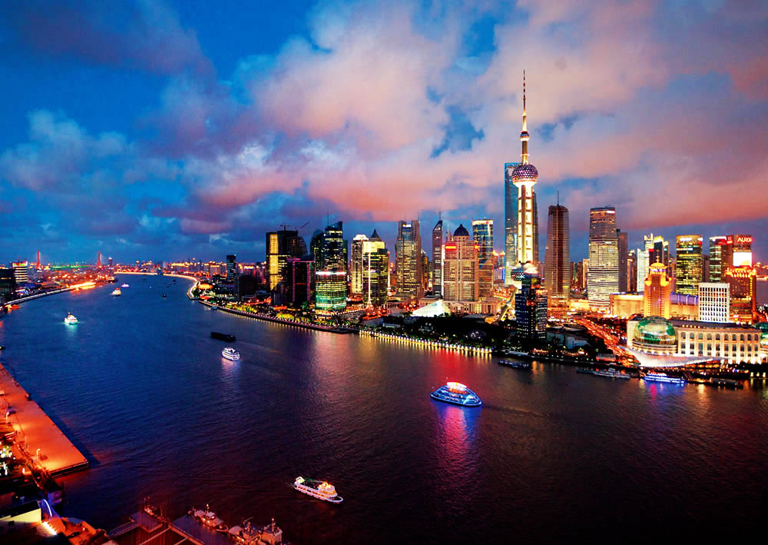 The Great Outdoors
Winter Sports and Ice Festivals – China is known internationally for its impressive Ice Festivals and Winter Sports such as Ice Skating and Skiing.
Skiing at Lin'an Daming Mountain Ski Site – the largest resort in all of eastern China. It consist of two major areas: Relaxation area and Skiing Area where tickets are paid per hour – RMB150(Weekdays) RMB220(weekends) RMB 260 (holidays) and PPE's may be hired at some RMB 10 – RMB 30 per hour and of course with an entrance fee of RMB 110 into the scenic area. This can be a real dream place for active winter holiday lovers. The Ski resorts are located in Jiangnan Tianchi Scenic Area, Henglu Village, Tianhuangping Town, Anji County, Huzhou, Zhejiang and offer both challenges for top skiers and suitable slopes for beginners.
How to get there:
By road: take the Hanghui Expressway, (from Hangzhou to Anhui), to the Baiguo exit, (白果出口). Once off, turn left and drive for a further 4 km to the Daming Mountain Scenic Area. From here, you can take a cable car to the ski area itself.
By public transport: first, take a train from your starting-point to the Hangzhou (Cheng Zhan/城战) Railway Station. From there, take the 49 bus or the express bus service to Hangzhou Western Bus Station and, from there, a further bus to Changhua Bus Station, (昌化). From here, take a bus to the Lin'an Daming Mountain Scenic Area.
Visit Oriental Pearl Tower
The Oriental Pearl Tower is basically what defines the Pudong skyline. Built in 1995, it's the third tallest TV and radio tower in the world. You can enjoy:
A Glass-bottom observation deck
The revolving restaurant
The Roller Coaster
Shanghai History Museum – located at the base of the tower
Visit SWFC Observation Deck
The Shanghai World Financial Center in Pudong looks like a bottle opener at the top and has several observation decks. A ticket to the 100th-floor observation deck, Sky Walk 100, provides entry to the Sky Walk 97 and Sky Arena 94. The view is tremendous and it's spectacular at night.
Located in Pudong New Area, Shanghai China. There is an entrance fee to get to the top but your money will be worth the view.