If You Are Planning A Trip To Russia, You Will Surely Be Wondering When Is The Best Time To Go. Vladivostok Is The Largest Pacific Port In Russia And Has The World's Biggest Aquarium Called Primorsky. The Perfect Place To Visit If You Are On The Far East Of The World.
VLADIVOSTOK. THINGS YOU DON`T KNOW.
If you are planning a trip to Russia, you will surely be wondering when is the best time to go. What clothes to wear and what to pack. In here, we will be doing something that is more interesting. So, let's read further! Russia is the world's largest nation, borders European and Asian countries as well as the Pacific and Arctic oceans. Its geographical extension covers polar areas in the north to subtropical areas in the south. It occupies one-tenth of all the land on Earth. It spans 11 timezones across two continents (Europe and Asia) and has shores on three oceans. (the Atlantic, Pacific, and the Arctic Ocean).
Its landscape varies from a vast desert to frozen coastline, tall mountains to giants marshes.  Much of Russia is made up of rolling, treeless plains called "steppes". The region of Siberia, which occupies three-quarters of Russia, is dominated by sprawling pine forests called "taigas". It has 100,000 rivers and lakes including some of the longest and most powerful in the world.
MOSCOW, RUSSIA
Russia's largest cities are: Moscow is the capital, has an estimated population of 142,500.482, which is the home for billionaires. St. Petersburg (4.575 million), Novosibirsk (1.397 million), Yekaterinburg (1.344 million) and Nizhniy Novgorod (1.267 million.). These are the famous cities of Russia which leads us to the city of Vladivostok.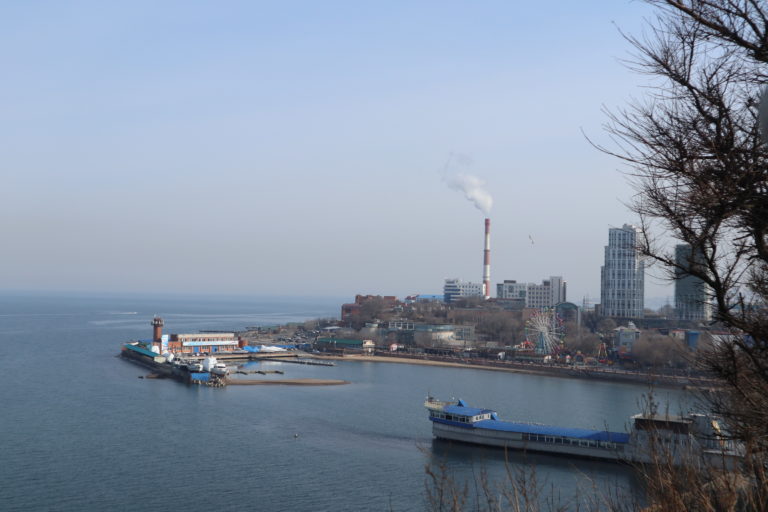 Vladivostok was found July 2, 1860, the city and administrative center of Far Eastern Federal District and Primorsky Krai Russia, located around the Golden Horn Bay, not far from Russia's borders with China and South Korea. It was then closed to foreigners. It was the chief Pacific entry port for military supplies and railway equipment sent to Russia from the United States. Vladivostok's military importance was such that it was close to foreign shipping and other contacts from the late 1950s until the waning days of Soviet power in 1990.
Here's the list of things you probably don't -and I didn't know-  about Vladivostok or "Ruler of the East"
Vladivostok is the terminus for the Trans-Siberian Railway. The legendary Trans-Siberian line from Moscow to Vladivostok is the longest railway in the world. It starts in Russia's capital and it ends a week later in the Far East of Russia in Vladivostok.  Both a starting point and finish line, the Vladivostok Train Station is where the Trans-Siberian Train arrives from and departs to.
Vladivostok is one of the most beautiful ocean cities in the world. Kungasny Beach, the beach of Egersheld, spokoynaya beach bay, Shamora, and Laguna Beach. And the best time to visit is from early August to the end of October. And here's the link on how to get there!
Vladivostok is the largest Pacific port in Russia and has the world's biggest aquarium called Primorsky. It is the world's largest scientific and educational complexes which have an important goal related to scientific discovery and research and is an attractive venue to visitors because of the large scale exhibits and animal shows. The building is a spectacle on its own. You can get to the Aquarium's gate on public transport and take a free shuttle service that will take you to the ticket office.
Tokarevsky
Vladivostok has the iconic lighthouse over the sea called Tokarevsky. It's the oldest, main symbol of the city. Resembles the edge of the world, and located at the end of a long sand bar sits on a man-made island connected to land by a narrow path. It is possible to walk on it and reach the lighthouse if the tide is low, and give the illusion that you walking on water. It is a fantastic place to visit all year round, with beautiful beaches to enjoy in the summer, wonderful frozen water scenery in winter and the possibility of spotting seals in the early spring.
Bridge to Rusky Island
Vladivostok has the longest cable-stayed bridge in the world called; Bridge to Russky Island, built for the Asia-Pacific Economic Cooperation (APEC) conference that took place on the Russky Island in 2012,  it is an impressive piece of engineering that connects the city to the island and provides a beautiful landmark to Vladivostok. You can take the bus to the DVFU campus if you wish to go through the bridge by public transport, and then commute to a minibus that takes you around the island, which offers beautiful beaches and interesting forts.
Vladivostok is a paradise for fishing!
Vladivostok is a paradise for fishing. It might not be surprising, either, that fishing is an all-season activity. What this list has taught you about how year-round a destination Vladivostok is. Still, if you have any interest in fishing, it might be worth your while to dedicate time to the sport, be it morning smelt fishing in winter, or a squid-fishing expedition on a summer night.
Far Eastern Federal University 
Did you that the World's best university is in Vladivostok Russia? It might be surprising! Far Eastern Federal University is considered the best in Russia and one of the best in the world. No Russian university, including Moscow and St. Peterburg State universities, have recreational like in Vladivostok.
Gates of Asia
Vladivostok is the Gates of Asia. It is 750 km away from Seoul, 1,335 km away from Beijing, and a little over 1,000 km away from Tokyo. Local travel agencies offer affordable flights, boat tours and cruises to Asian countries, including Thailand, Vietnam, and Singapore. If you wish to visit these and other countries, you need to ensure you arrange a visa at the embassy of the corresponding country beforehand.
Merge of Culture
Vladivostok is a unique place on Earth, where European and Asian Cultures merge. They have their own unique cuisine, a weird mix of Russian and Asian Dishes like Pyan Se, or Fern.
Vladivostok is the capital of Russia's Far East. President Vladimir Putin signed a decree in December 2018 making Vladivostok the capital of Russia's Far Eastern Federal District, replacing the old capital of Khabarovsk.
So, every time you visit a country for one reason or another. Whether it's through transit only, you will come in contact with a culture different from your own. And the best way to avoid any shocks is to know what you are getting into before you go.
Aside from these things, knowing the country's culture is very important! Learn about their religions and a little bit about their language like 'zdrastvujtie' (Hello!) and 'Do svidaniya" (Goodbye!) and lastly, do your own research about food, facilities, and transportation.