Hong Kong is known for being a round-the-clock city with a fabulous scene and pulsing nightlife and luxury shopping. Additionally, it is known for its Instagrammable spots which are circulating on the internet. When you are in Hong Kong, it's almost impossible not to take photos at every corner and capture every beautiful moment.
From the famous Sheung Wan to the Man Mo Temple, to the Colorful housing estates, to the colorful arts of Graham street, to Saiwan Swimming Shed, to popular Victoria Peak, Temple Night Market, Peak Lookout, and many more! However, most people skip these popular places and prefer those that are more scenic and historic than the magnificent bright lights.
Here are some of those hidden cool places people forget when traveling or visiting the city, They are, indeed are my favorite. For a good Instagram feed remember to go where just a few people are going!
Dragon Gates of Hong Kong
The Hong Kong Special Administrative region has over 9000 high rise buildings.1500 of which are skyscrapers standing taller than 100 meters with 350 buildings over 150 meters. Now, have you ever realized that Hong Kong Skyscrapers have holes in them? They are called dragons gates! And according to the Chinese principle Feng Shui (a Chinese system for positioning buildings and objects in a way that agrees with spiritual forces), these holes allow dragons to fly from the mountains to the water each day. It is believed that Dragons are bearers of good fortune and blocking the energy's path could bring misfortune.
How to get there: Bus routes 6, 6A, 6X, 66 or 260 runs between the Exchange Square Bus Terminus in Central, Admiralty, and Stanley via Repulse Bay Beach.

Metro's in Hong Kong
When it comes to the world's best metro, Hong Kong has it! In Hong Kong, metro stations are so clean, you can even sleep on the floor, it's air-conditioned for convenience with glass doors for safety, free Wi-fi for connectivity, people around for help and most of all, their metro is 99.9% on time! In Hong Kong, if the metro is late by more than 30 minutes, they have to pay a KH$ 1M fine that goes back to the people. Yes, that's right!
Floating Seafood Market in Sai Kung
It is one of the most popular destinations in Sai Kung Peninsula where a busy floating seafood market can be found. It was a fishing harbor wherein fishermen still gather there until today. The number of restaurants and bars that will appeal to you because of its slower pace of life. It acts as a gateway to some of the best countrysides you are likely to visit and it is a fishing village and a paradise for seafood lovers.
This is the famous place wherein fishermen removed fish's scales while it's still alive and they do it for a living. It seemed to bother but we buy fish at restaurants and markets and we don't even know how they were prepared and eat them anyway! Hehe! What're matters most is that we are not wasting them right? People wanted "Fresh seafood" and this is the reason why they are doing this.
How to get there:
Take the MTR to Choi Hung Station, then take the Green Minibus 1A which will bring you to the Bus Terminus near the Harbour and Promenade.

Take the MTR to Choi Hung Station, then take the Green Minibus 1A which will bring you to the Bus Terminus near the Harbour and Promenade.

Walled Villages of Hakka Clans
During the Ming dynasty (1368-1644), some of the Hakka clans built walls around their homes to protect themselves against roving bandits and invaders. The Hakka people have been confronted with armed warfare for local resources since the 17th century. To remedy their situation, the Hakka began building massive structures that could not only stave off intruders but would also form amazing self-sustaining micro-communities complete with food storage, space for livestock, living quarters, temples, armoires and more.
The communities are known as Tulou and are essentially fortresses built in either square or round shapes. Structures typically had only one entranceway and no windows at ground level, and a building could withstand a protracted siege by being well-equipped with food and an internal source of water; they also often had their own sophisticated sewage systems. Before you visit any walled villages, instagrammable photos can be taken (historically inspired) at the following spots:
How to get there:
Sam Tung Museum in Tsuen Wan: take the

MTR to Tsuen Wan Station Exit E. Follow the signs and walk for approximately 5 to 10 minutes.

Lung Yeuk Tau Heritage Trail or ('Mountain of the Leaping Dragon') is located outside Fanling: take the

MTR to Fanling Station, Exit B. Look for the temple's distinctive double-tiled orange roof.

Ping Shan Heritage Trail

From Hong Kong by Train: ( takes an hour)

take the MTR to Tin Shui Wai Station, Exit E. When you arrive at the ground floor, cross Tsui Sing Road and you will see Tsui Sing Lau Pagoda

Stilt Houses in Tai O Fishing Village
Stilt houses line the creek and provide an insight into the active fishing village. Most houses are built on the water and have a boat tied to the front so fishers can easily head out to sea and catch fish. In its a small pathway through the village, you'll find dry salty goods. (dried octopus, dried fish creatures) and some creative additions to their gardens and walls.
Tai O Fishing Village is located in the West coast of Lantau Island, an unusual and a picturesque village. The traditional stilt houses predominant of the old Southern Chinese fishing villages which is one of the few remaining places where you can still see in Hong Kong.
How to get there:
MTR Tung Chung Station. Take bus 11 to Tai O bus terminus (the journey takes approximately 50 minutes.) Walk for around five minutes to the Rope-drawn Ferry Bridge and then take a stroll along the waterfront or

MTR Tung Chung Station Exit B. Take Ngong Ping Cable Car to Ngong Ping Village (approximately 25 minutes). Take bus 21 to Tai O terminus (approximately 20 minutes) and walk for around five minutes to the Rope-drawn Ferry Bridge and then take a stroll along the waterfront.
Market Scenes in Cat Street
If you are into antique jade, silk, and wooden gems, and you love to photograph each of them, this place is for you because these are great for close up shots! It's a lane of immense, color, history and culture.
How to get there: Lascar Row is the combined name of two streets between Hollywood Road and Queen's Road Central. So you can take the MTR to Sheung Wan or Central and then walk 10 mins to reach Upper Lascar Row (摩羅上街) and Lok Ku Road (Historically Lower Lascar Row)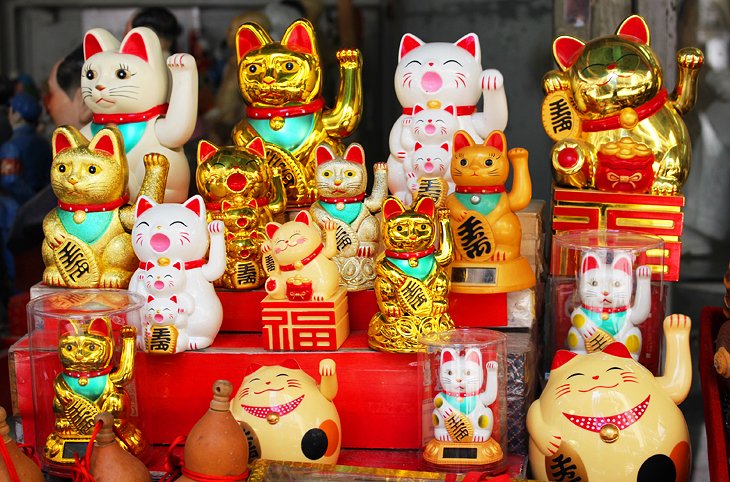 Central Harbourfront Space
It is a waterfront site in central Hong Kong and now the site of the Hong Kong Observation Wheel. It is the best place to enjoy the Tsim Sha Tsui (Hong Kong's prime tourist area) and Kowloon view of Victoria Harbour. At 8 pm every night, you can enjoy the Symphony of Lights show from the Harbourfront, the food, nightlife, arts, and all the shopping you may want or need. The view is amazing and it is perfect for watching fireworks show for the whole family. Spots to look forward and picturesque area;
Tsim Sha Tsui Waterfront
Space Museum
Clock Tower and the adjacent fountain garden
Symphony of Lights
Salisbury Road
How to get there: Access the site from Central (exit A) or HK Station (exit A2). Approximately 10 minutes walking distance. From Admiralty Station head towards Tamar Park, walk through the park towards the Waterfront Promenade and turn left.
Top Deck of the Hong Kong Star Ferry
A better way to enjoy the water of Hong Kong Harbour is floating on it via Star Ferry. An iconic tourist attraction and has been traversing Victoria Harbour between Kowloon and Hong Kong Island since the late 1800s. This is an integral part of the city's history. Moreover, It is beloved by so many! It's an unbeatable way to catch a glimpse of the magnificent Hong Kong skyline, offering uninterrupted views of the skyscrapers clustered around Victoria Harbour.
How to get there:
TST Star Ferry pier: MTR Tsim Sha Tsui Station, Exit L6. Walk to the Clock Tower along Salisbury Road; or,

Central Star Ferry pier: MTR Hong Kong Station, Exit A2 or MTR Central Station, Exit A. Walk to the pier along Man Yiu Street; or,
Wan Chai Star Ferry pier: MTR Wan Chai Station, Exit A1.
Pink Flamingos in Kowloon Park
Kowloon Park is 13 hectares of shaded gardens, small lakes, rose gardens, an aviary, heritage buildings, and pagodas. Additionally, one of the undoubted highlights of this Park is a gang of striking pink flamingos splashing around in the bird lake.
How to get there. If you are staying in Tsim Sha Tsui, Kowloon Park will be a short walk away. From anywhere else, Tsim Sha Tsui MTR, Exit A will lead you to the edge of the park. Entrance to the park is free. Additionally, it is open daily from 5 a.m. until midnight.