Dubai is one of the destinations which offer one of the best desert experiences in the world and also very diverse. From camels to boards on the dunes up to the desert adventures offers almost everything you can imagine. Rated one of the best among places like India, Morocco, Oman, and Egipt in The Zoe Report, CEOWorld, Indian Holiday and more.
Dubai is the ultimate and ideal place to start as a newest on safari and everything related to Desert trips. Mostly because this was one of the first places in the world that became famous for Desert trips and also because it comes from being an outrageous city build on the desert. This is the reason why it gives the perfect mixture of all the things you should know about traveling and living in a place with hot, humid and sandy weather. 
For our first desert trip, I wanted to do something different so I was looking for a more local thing that just camel riding. I came across Bedouins Experience at Al Marmoom thanks to getyourguide.com. Honestly, I am not into guided tours as I like to explore places without following someone the whole time. Self-education to me is more enjoyable just like many people out there, so I use Getyourguide.com to book places or things on my trips. I would enjoy doing without a guide but you can do it in several places around the world with guided help. Just check it out!
"The Desert Dwellers"
Bedouin comes from the term "Bedu" in Arabic and means "desert dwellers" also known as the nomads of the Arabian Desert. Bedouin were the first inhabitants of Dubai.  They are considered as one of the most sustainable and Eco-friendly cultures in history. Their rich culture and fascinating traditions are significant to Dubai's heritage and also Dubai's current status and development. That was the first reason why I chose Al Marmoon, nothing better than a local experience to get a closer look at why and how Dubai is what it is. 
THE EXPERIENCE
We were picked up at 6:00 a.m. at the Hyatt Al Wasl hotel. We were staying at the latest Hyatt in the city center near all the local Souk, local places, and heritage area. The trip took an hour to the pick-up point with the driver "Amjad" from a Pakistani background. He explained us everything about Dubai, so in 1 hour I have asked almost everything I could think about Dubai, history, social scale, income structure, city development, social organization etc.
And as I had done my homework and research before the trip, all my doubts were clarify. We made our middle and last stops to do our necessities, get some coffee, and some food. It was a-mazing!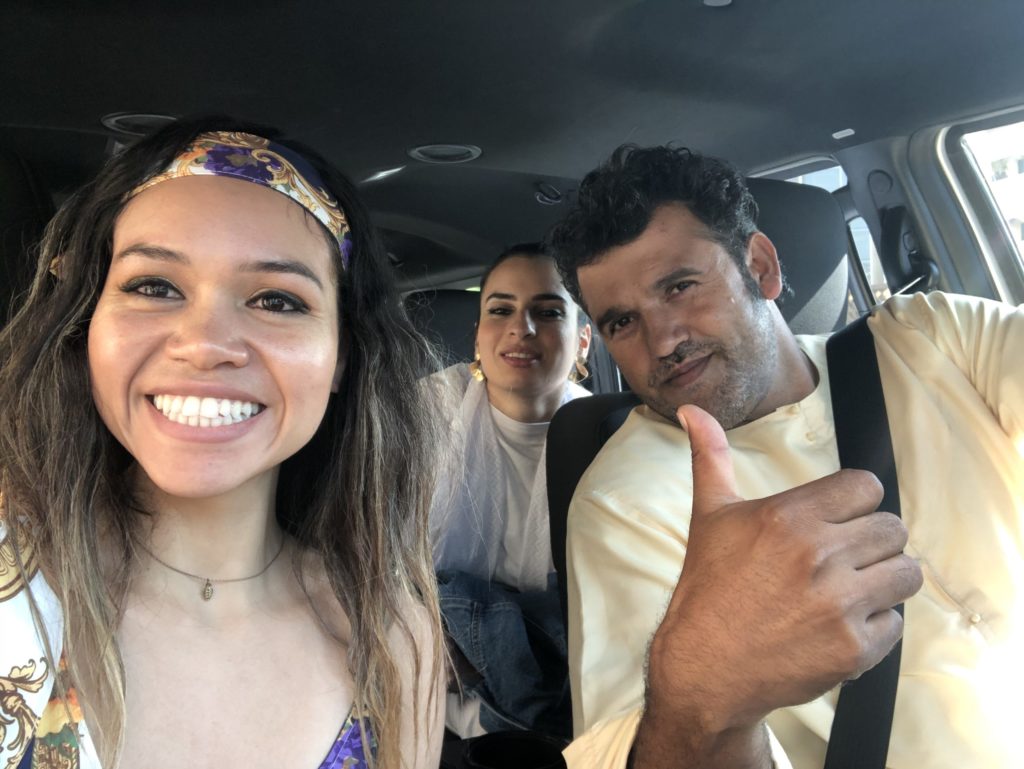 After 1 hour we arrive at the camel point, where we were welcomed by Shakil, who we call the Camel Master. Shakil has around 21 trained camels, with different names, and well-trained to do things in the desert for us to experience. We were explained how the camel culture works in history and why the camel milk is so good and famous. -something that I had not a single idea about-
The experience took place at the Bedouin village in the Al Marmoom Desert. Conservation Reserve a beautiful desert oasis surrounded by native Ghaf trees and sand dunes. The village was built traditionally with raw materials at the desert oasis and is a replica of a Bedouin camp with an area for camels, farm animals, food stations, basket weaving, souk with spices and more!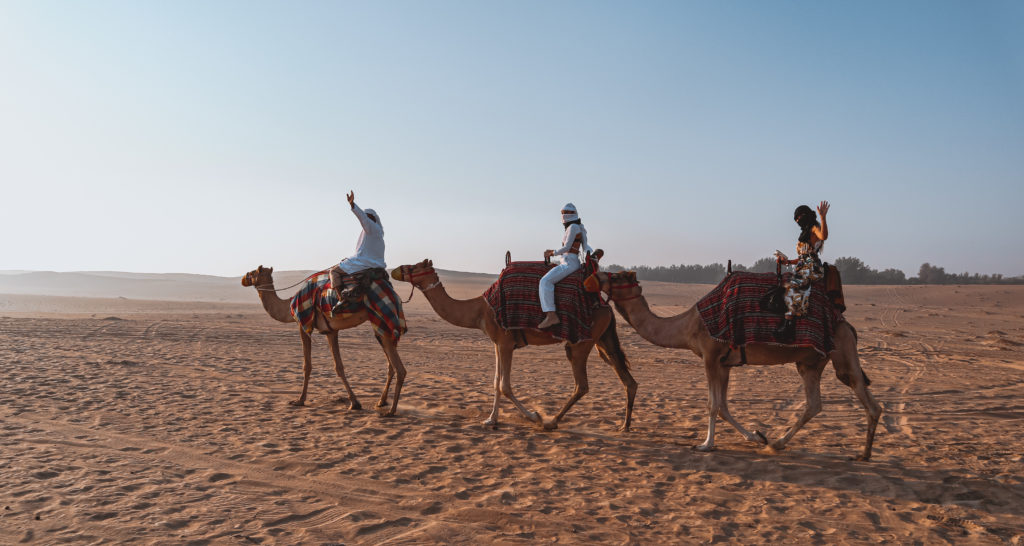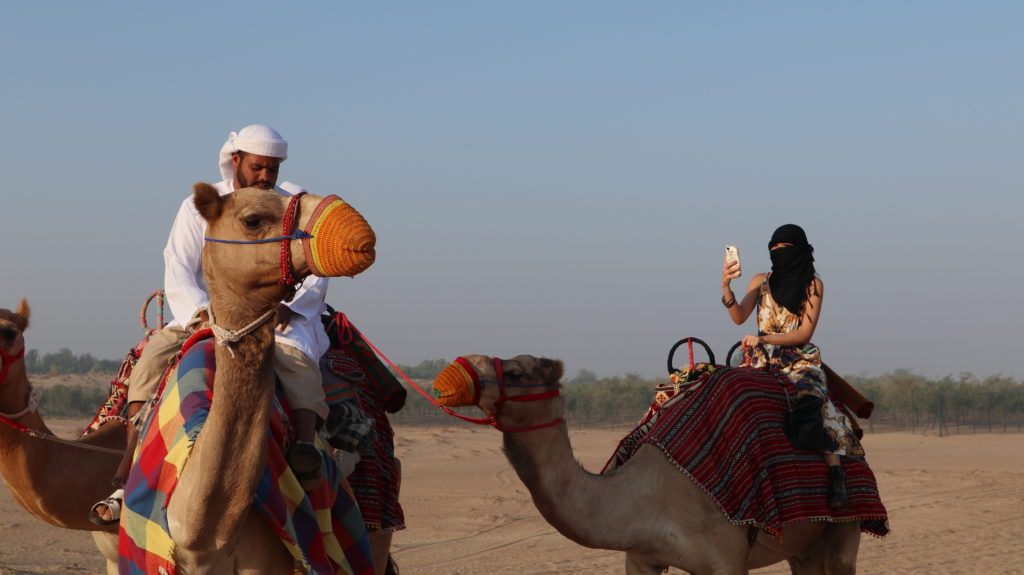 The Camel Riding
After the camel riding for 20 minutes, we arrived at the Bedouin. The trip was really special as no one else had booked that day so we had the whole place for our own. We were greeted by Ali, who was our guide during the rest of the visit. First thing, we set up traditional majlis (Arabic place of sitting) to watch and enjoy a Bedouin falcon show, an interactive Bedouin falcon demonstration with an Arabic Saluki dog.
Afterwards, we rode camels for another 10 minutes to the Debuin were we had cultural and historical insights explained in different stages. In the first stage, the coffee culture, then we discuss the importance of women and natural resources during the old times in the desert. We've talked about food, animal preservation, and climate. Lastly, the theme of medicine and beauty with the use of natural resources and hena. It was about 1 hour and a half full of education and many insights that really gets you to understand the Emirati roots.
My Birthday Feast
At the end of the visit, we had a great breakfast, one of the reasons why I booked this experience-. We weren't expecting all that we've got. From local fruits to traditional breakfast, including natural tea and traditional coffee. It was a feast. The traditional Emirati cuisine is served as a series of shared dishes, sharing a meal from one large plate.
The large plate is placed at the center of the group on a mat on the floor of traditional majlis and ate with our fingers while sitting on the ground. The guys sang happy birthday to me. -I almost cried as I haven't celebrated my Birthday as I used to do in Panama in the past 3 years- it was so warm, and really made me feel like home. Following was a traditional Emirati dance – which we were encouraged to join. Everyone was so respectful and kind, really makes you think differently about Emirati culture and people in the Middle East.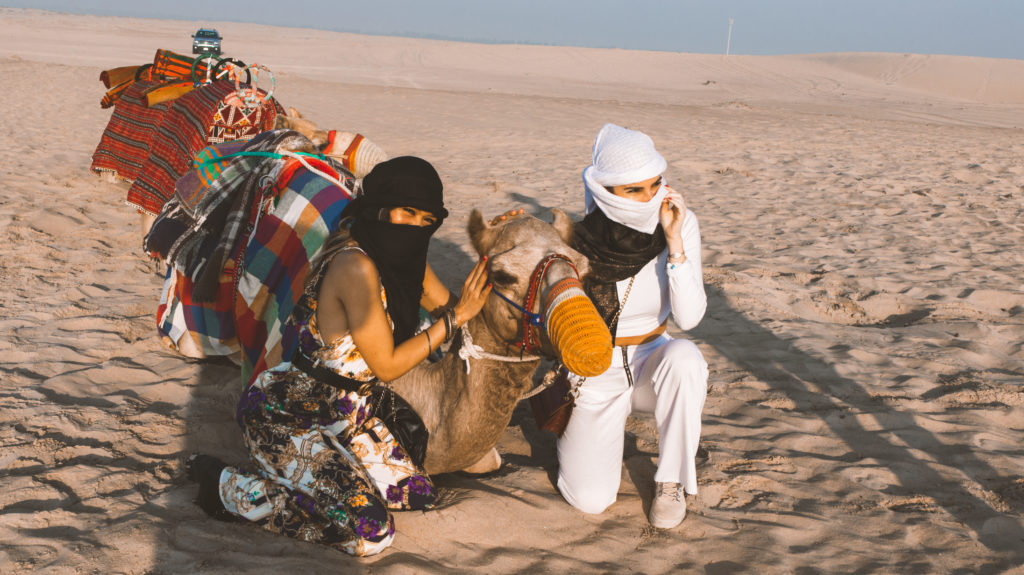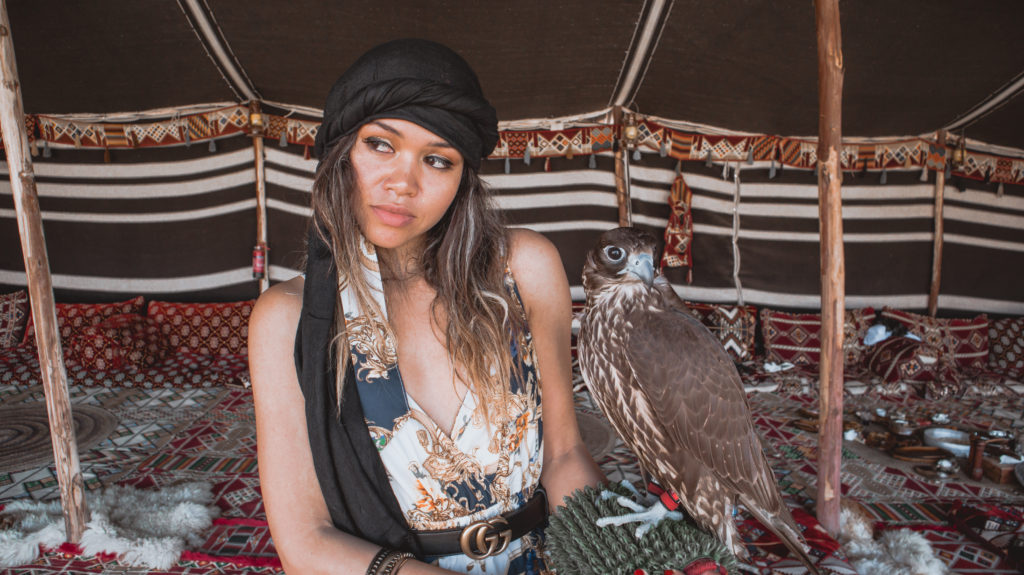 The Arabic Coffee and Rose Water Greetings
At Al Marmoom Bedouin you can witness and get real opportunity to experience the nomadic culture and their way of life in the desert.  This experience is a blast from the past and takes people back 100 years ago to witness how Dubai was in the past. Bedouin culture is known for its hospitality and generosity. One way of expressing their hospitality is Arabic coffee greetings and offering rose water.
Rosewater is an old Bedouin tradition poured over your hand when you arrived at the village, this is to make you refresh and wash away any unpleasant smells garnered through your travels. Arabic Coffee is a bit more interesting, as there are two ways to greet someone with it. The first is with half a cup; this means you're welcome to hang around for a while. But if you are poured a full cup, you'll have to quaff it and be on your way.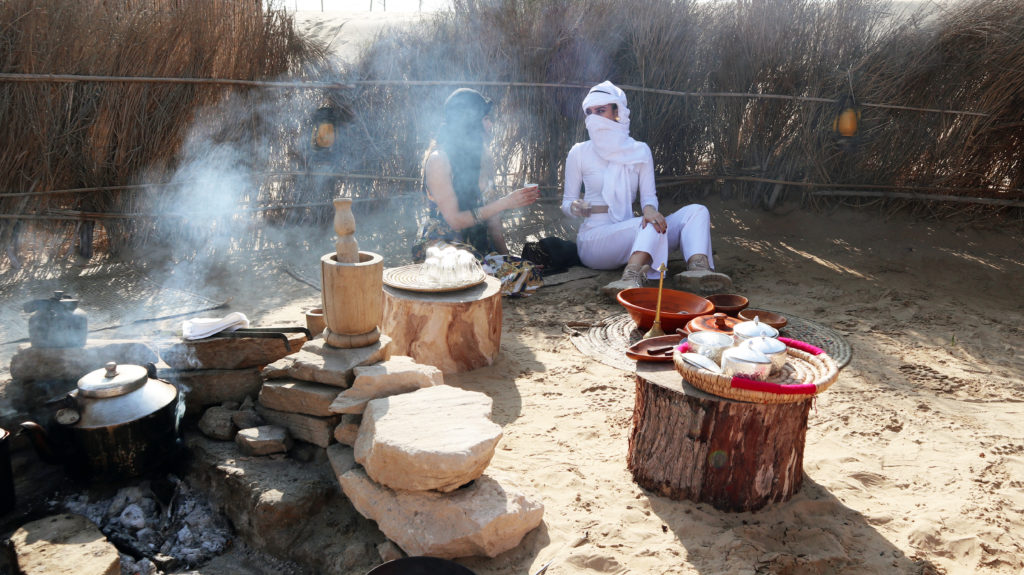 You will experience And Take part of the cultural performances and hear Bedouin stories passed down through the generations. These experiences are an authentic recreation of Bedouin culture and life in the desert. While enjoying the experience, take time to stop at various points to enjoy the picturesque beauty of the sand dunes and give the opportunity to take stunning photographs of the awesome sunset scenes or a beautiful sunrise in the desert.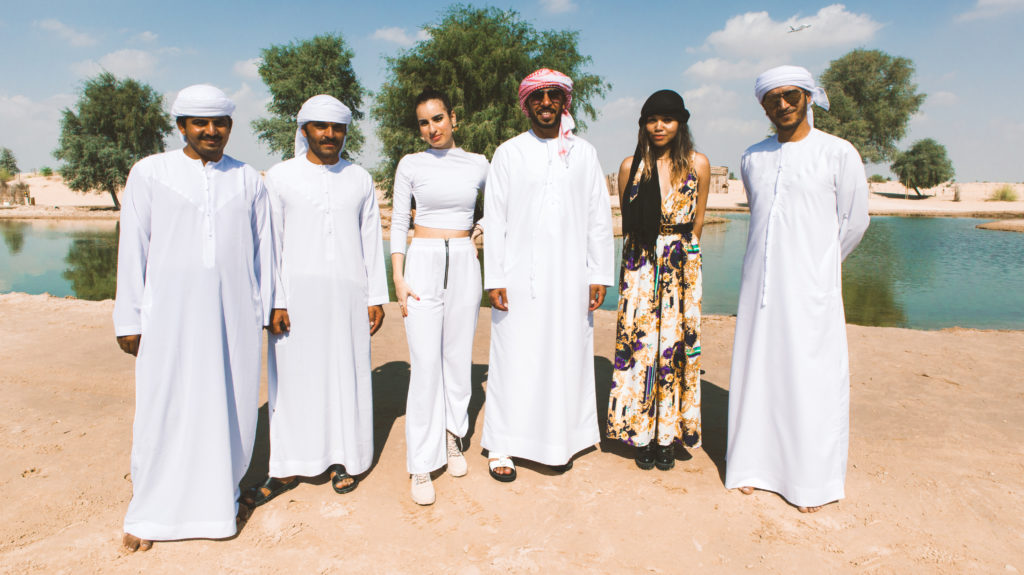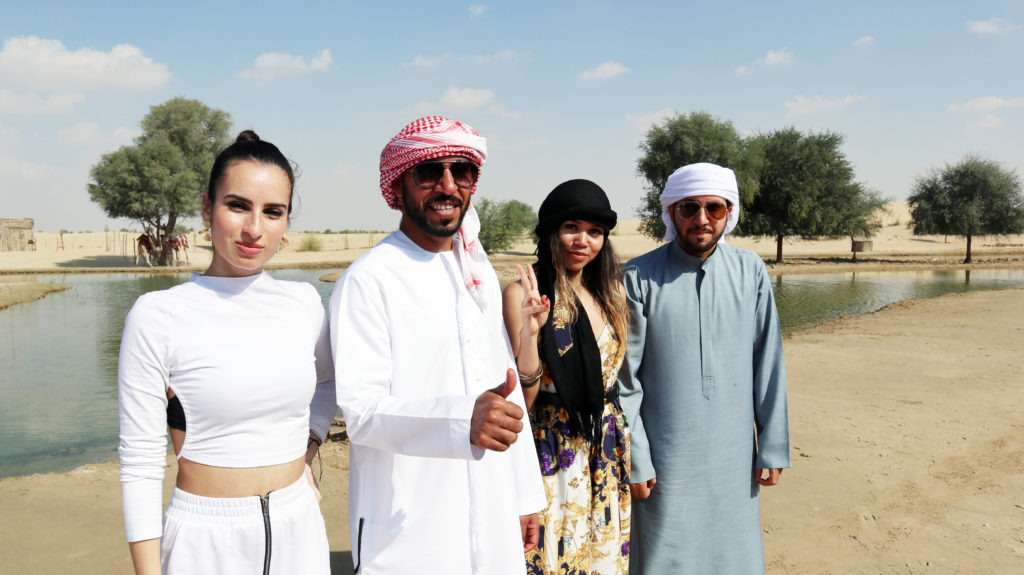 Booking at Al Marmoom Bedouin Experience, you can try the Bedouin life for a day. The Morning Bedouin Experience and the nightlife Evening Bedouin Experience. Also, you can take part in the Al Marmoom Initiative launched by Sheikh Mohammed bin Rashid, Vice President and Ruler of Dubai at the beginning of 2018 in the Al Marmoom Desert Conservation Reserve. This initiative reflects Dubai's goal to preserve the local environment and provide a natural habitat for threatened wildlife.
Its major goal is to host more than 20 environmental, cultural and sports movements. Some of these include 10 animal and bird observation platforms. A yoga center, an outdoor theater powered by a 5,000-megawatt solar power complex. And the Al Marmoom Bedouin Experience supported by the Hamdan Bin Mohammed Heritage Center.
The Al Marmoom Bedouin Experience is part of the initiative to preserve Bedouin culture and heritage in Dubai.